&nbsp
Pedro y Elsita
Ushuaia and Puerto Williams
October, 2004
&nbsp

Tuesday, October 26th
Large, fluffy snowflakes were falling as we drove to the Southernmost Railroad in the World's station west of town. The "Tren del Fin del Mundo" used to carry wood, cut by convicts working off their time, back to Ushuaia when it was primarily a prison. Those days ended long ago, but the steam engine train has been resurrected to serve as a tourist attraction. The snow continued all day, partially covering short tree stumps left from summer cutting and taller ones left when the snow was deep. All the pine trees were dusted with snow, making it a Winter Wonderland.
Tren del Fin del Mundo
Train of the End of the World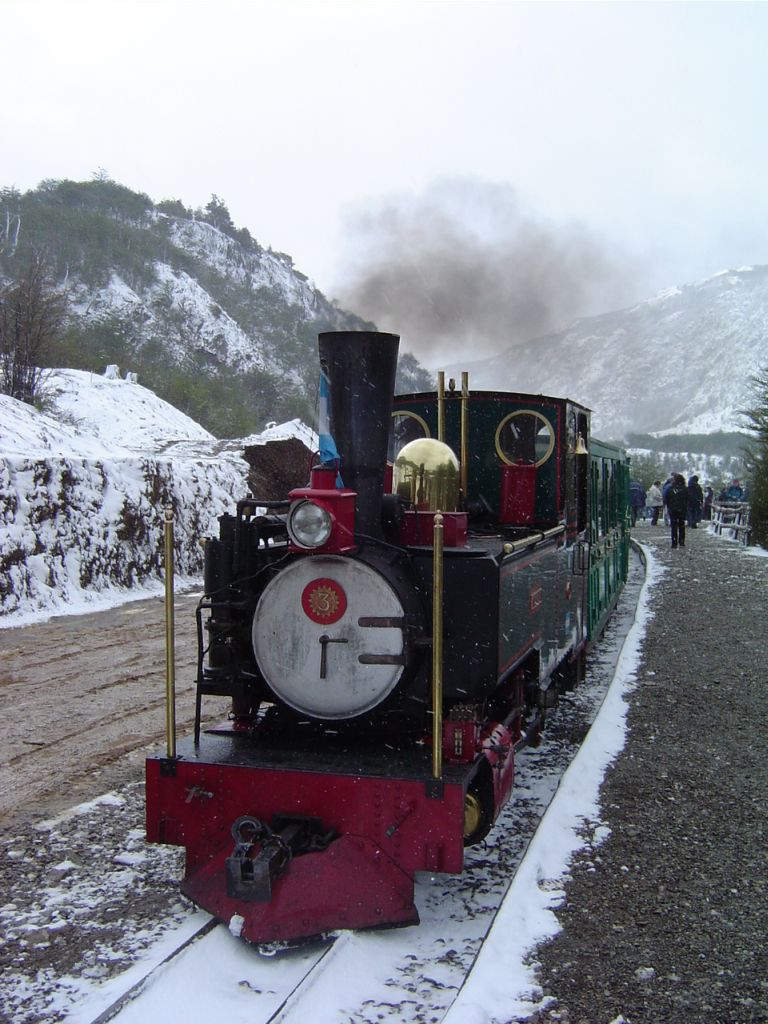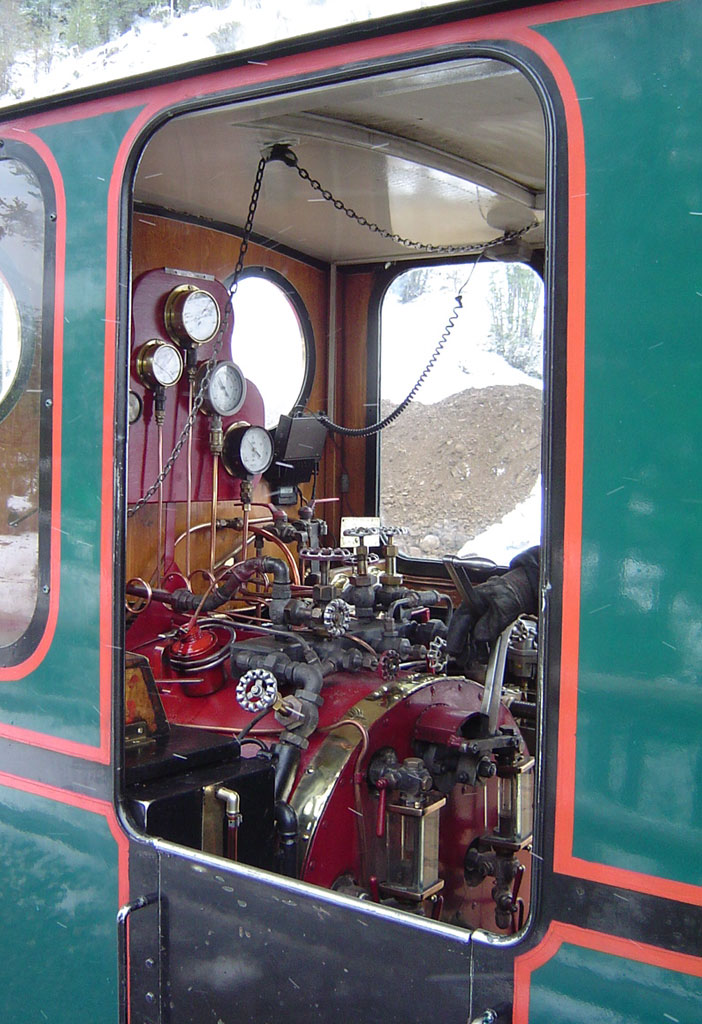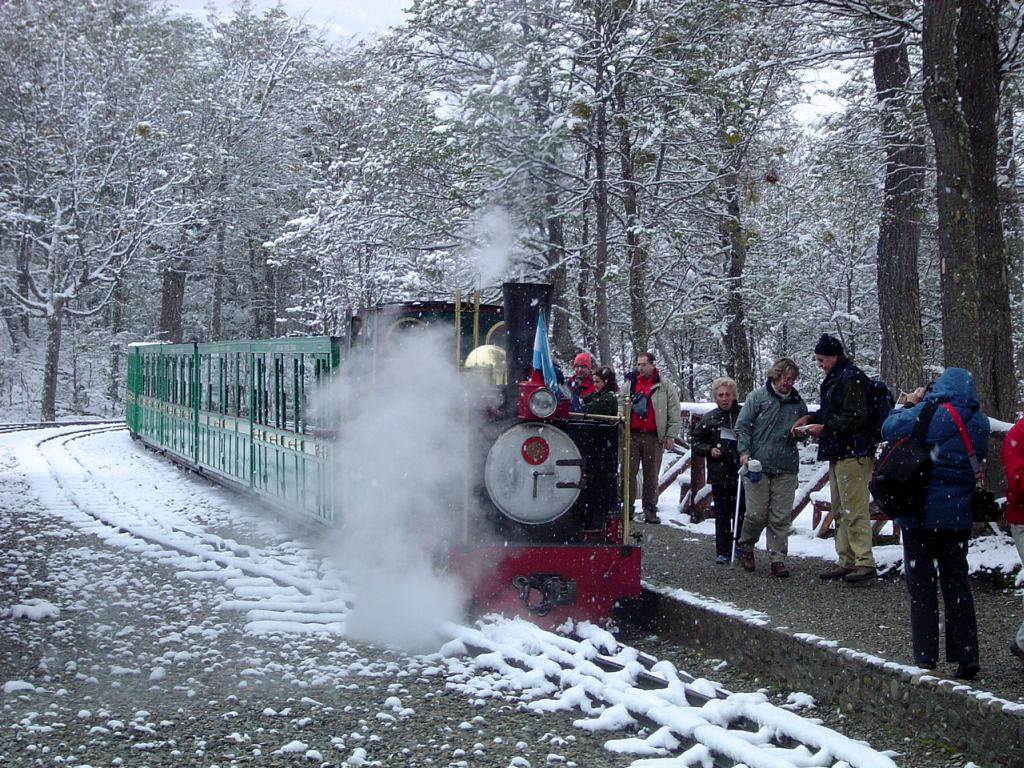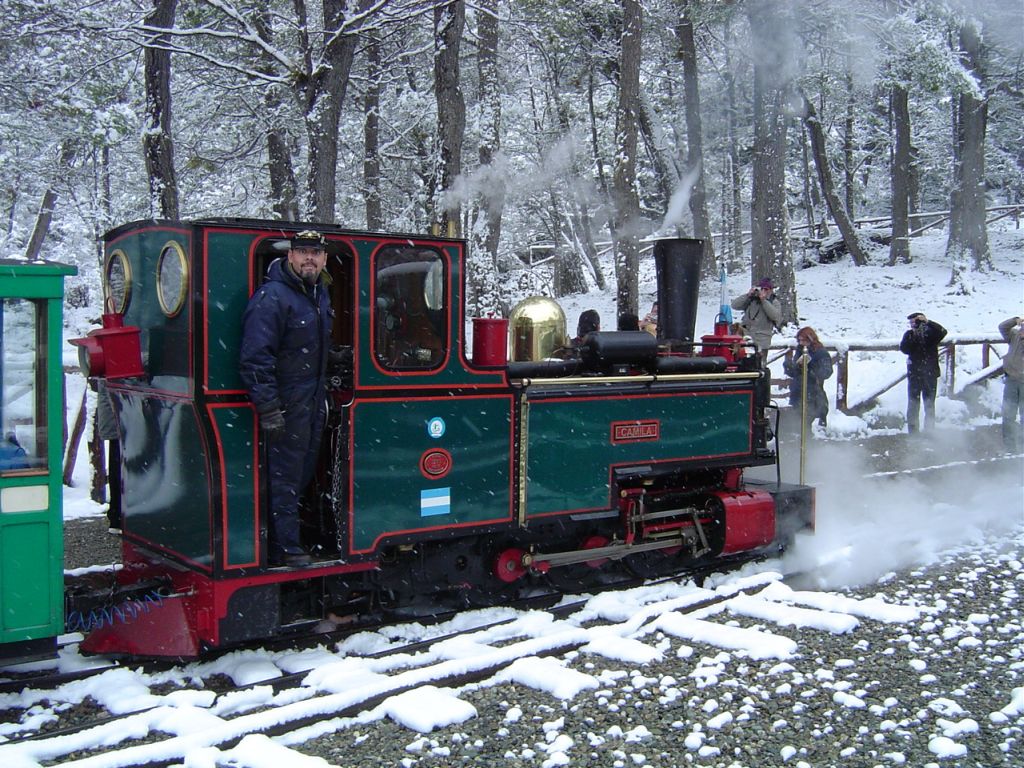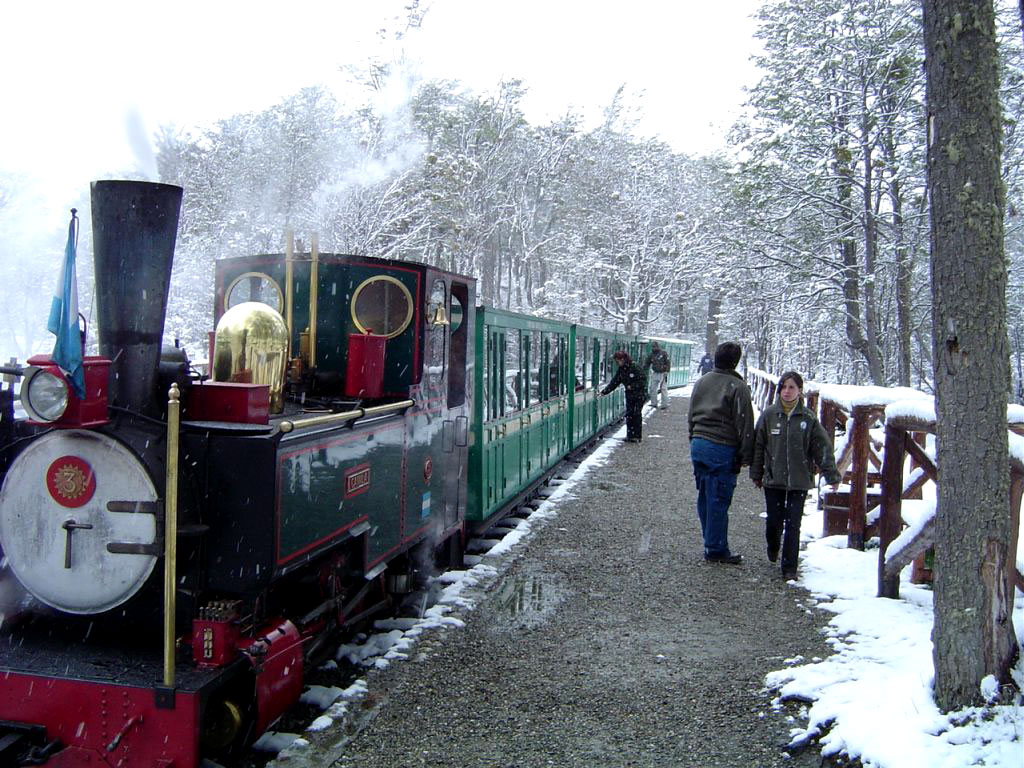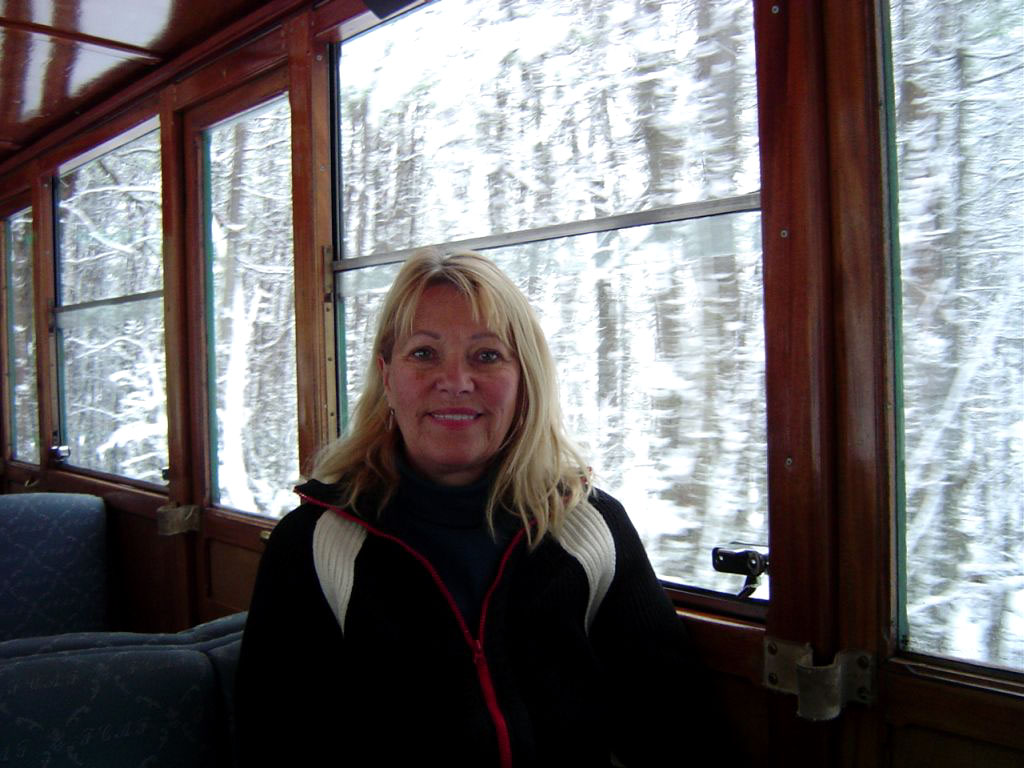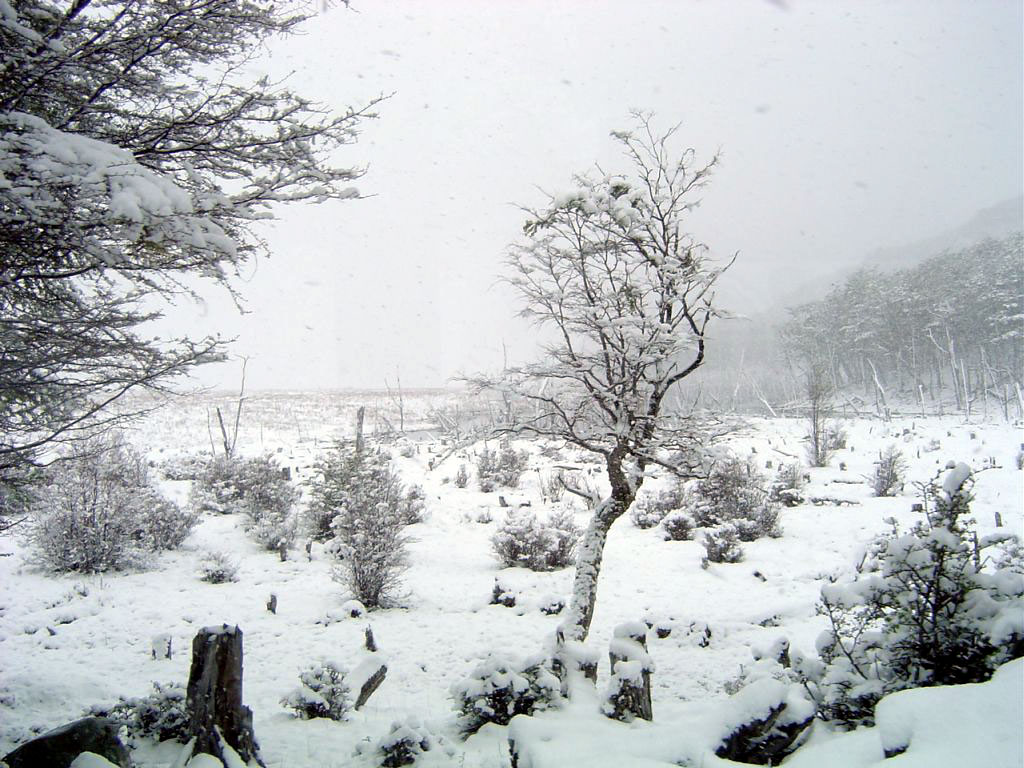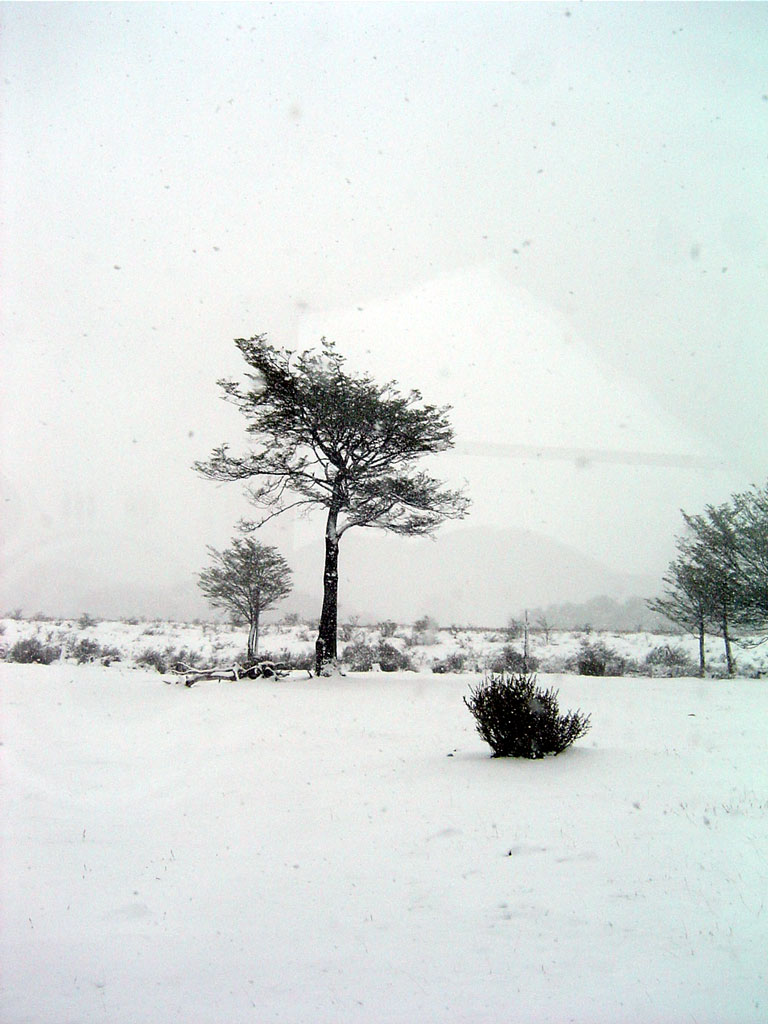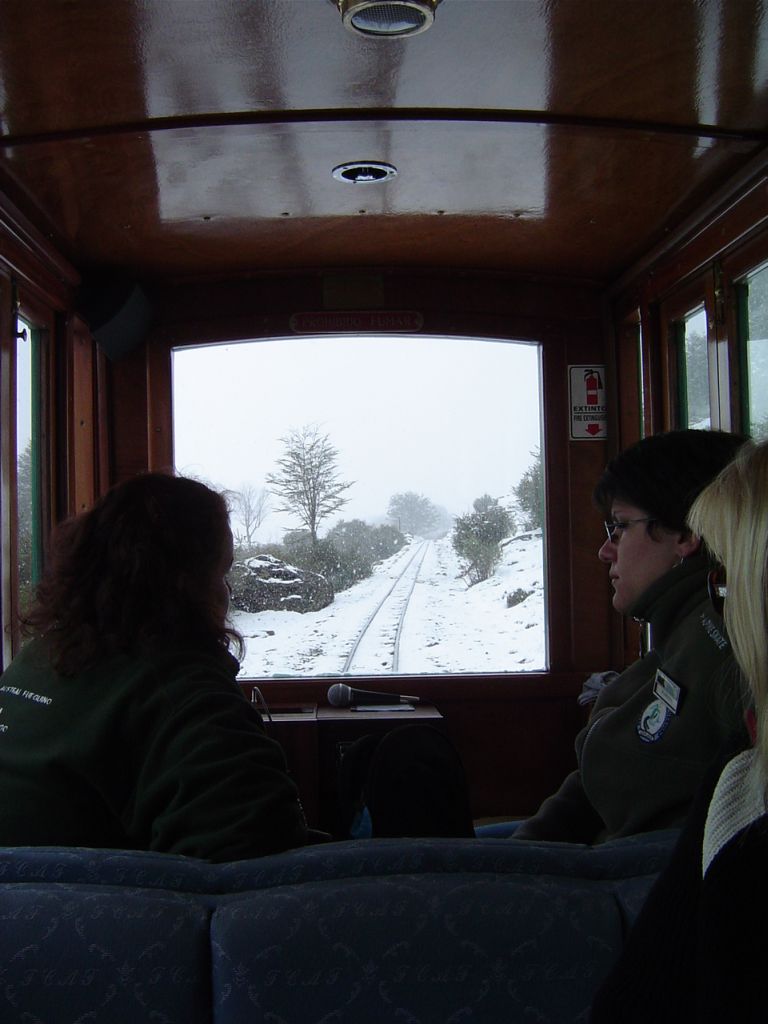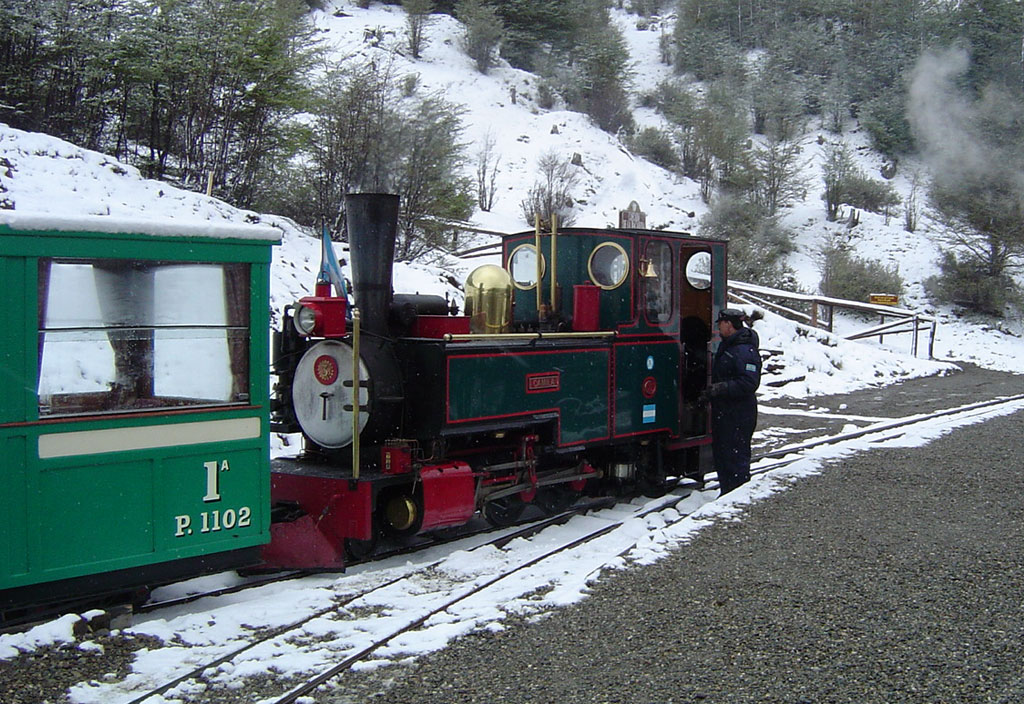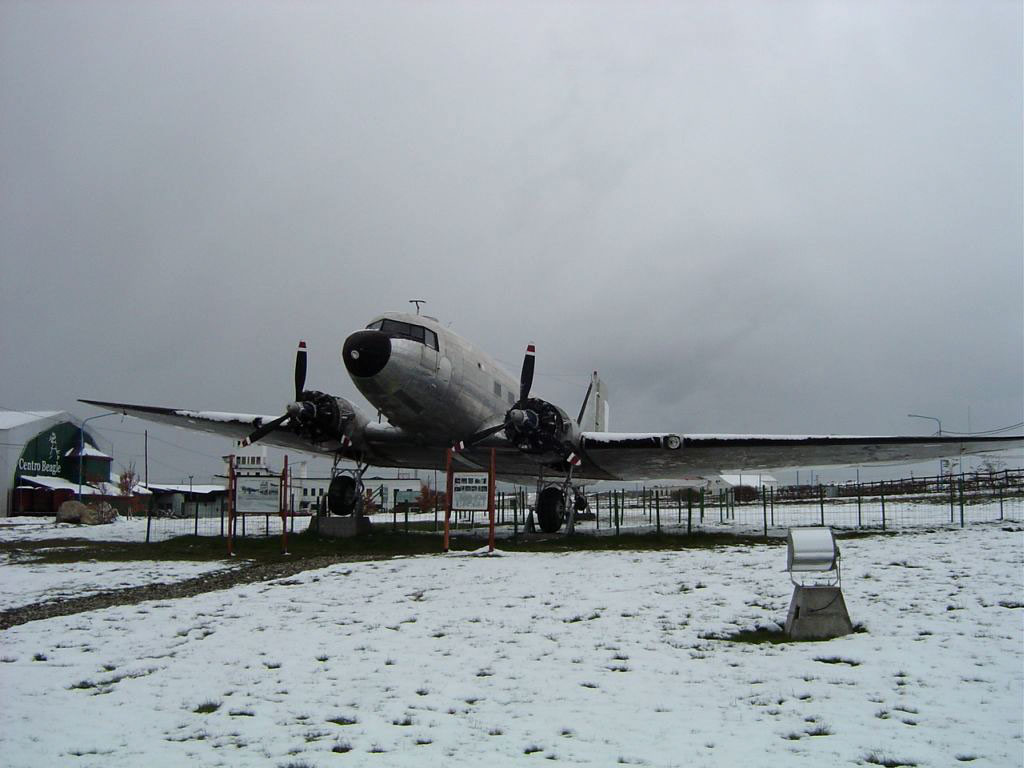 Passing the airport on the way back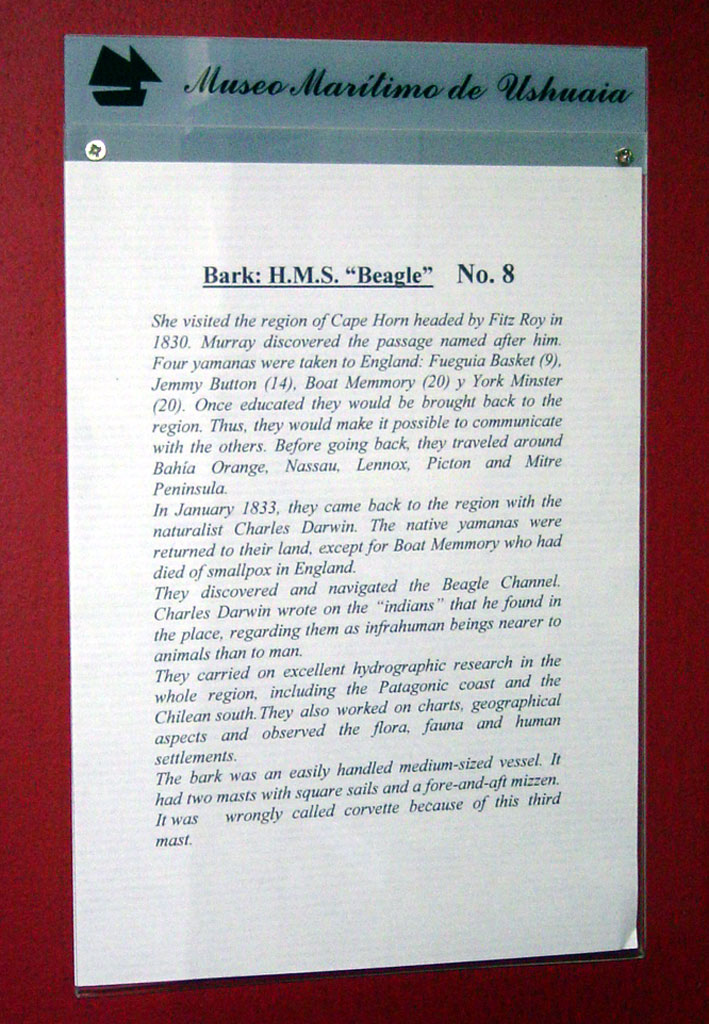 Wednesday, October 27th
Breakfast at the Hotel Canal Beagle
Looks like a nice day to go flying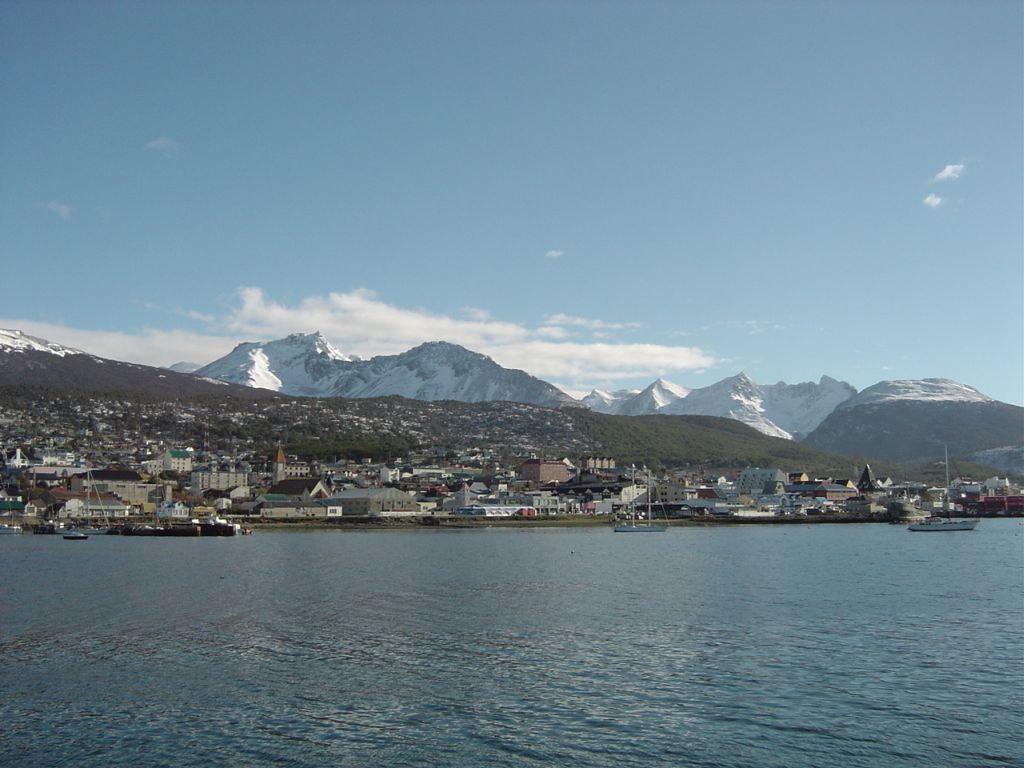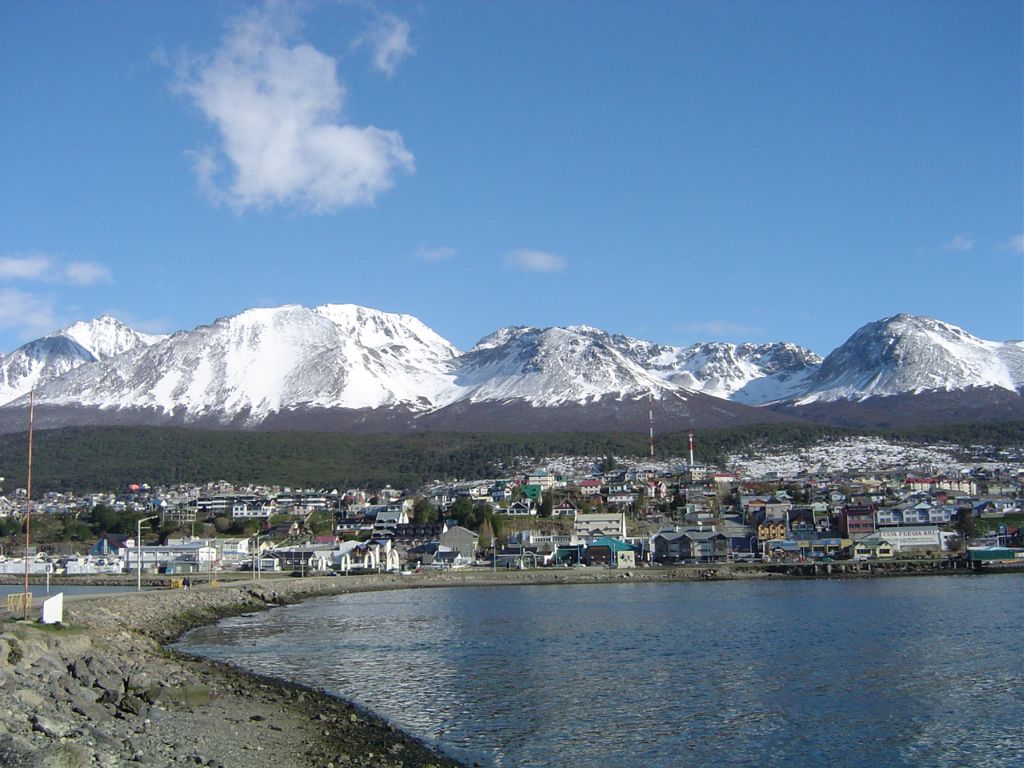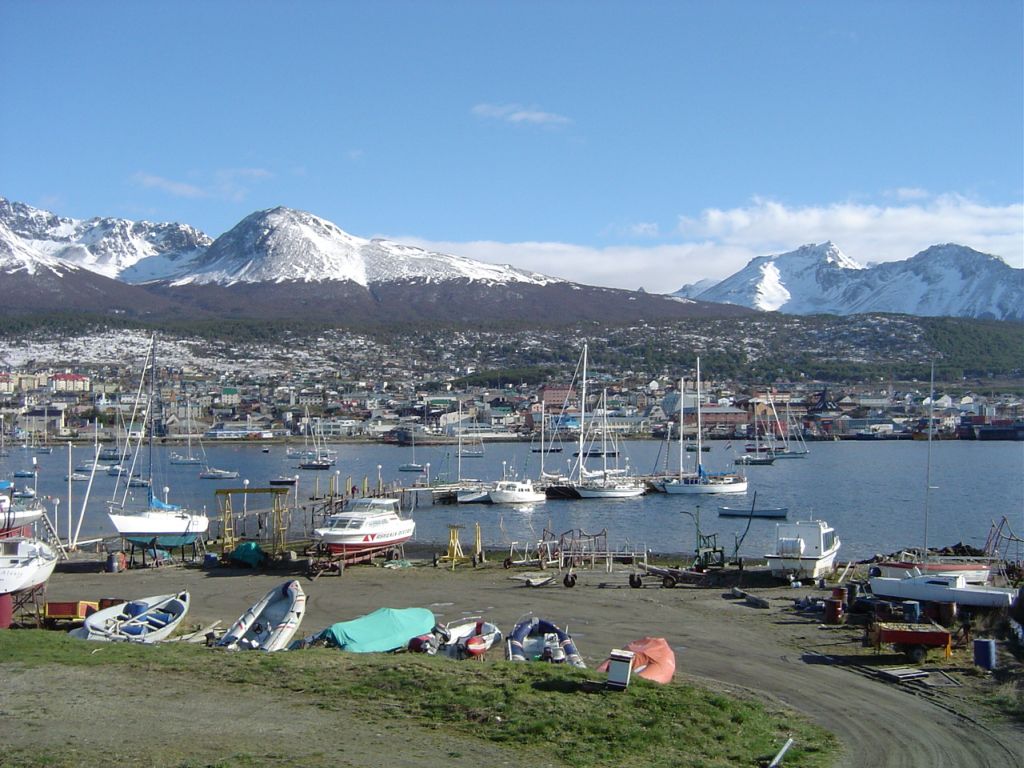 Yesterday's snow is gone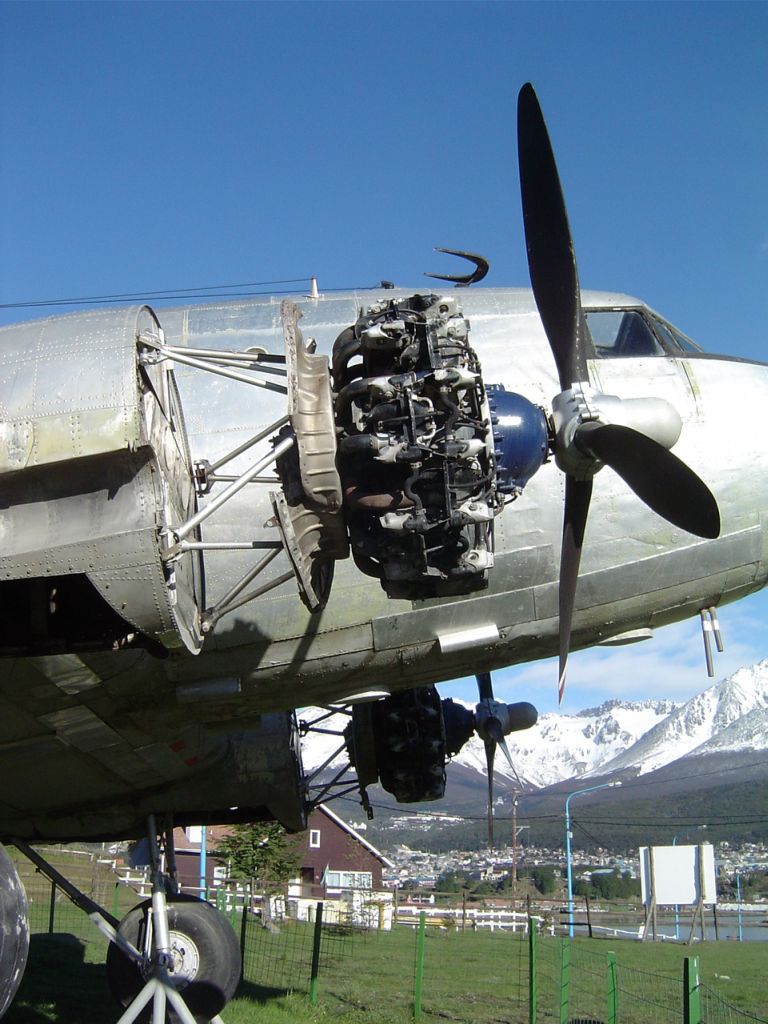 Spindly little sticks hold the engines on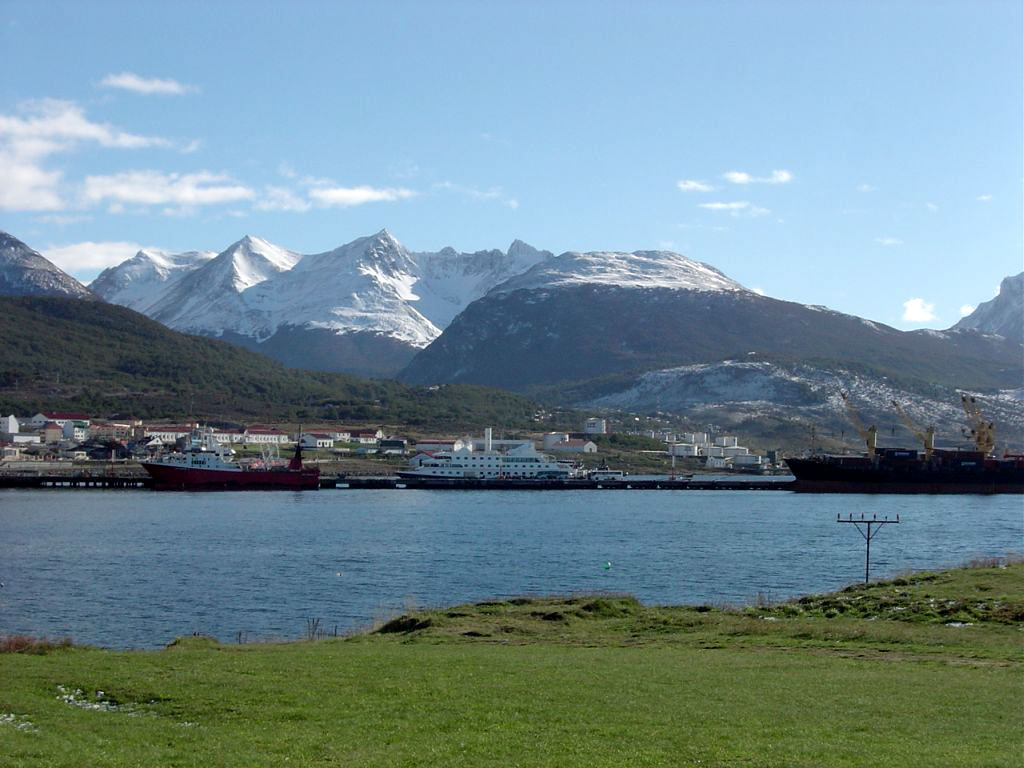 Courtesy of Elsa:
We booked a flight to Puerto Williams the southern-most town (regardless of Ushuaia's claims), from which you are 1000 km from Antarctica. The flight plan has to be filed 24 hours before, to leave at 9 AM. It snowed all day yesterday with -2 grad. Peter got up at 3 AM to look out the window, it looked clear, again at 6 AM and the sky was clear and blue. So after a very tiny croissant (Continental breakfast served here) we drove to the small airport which we can see from our hotel lobby window. We arrived at Aero Club Ushuaia at 8:30 AM.
Somebody showed up at 9 AM and opened the hangar and proceeded to pull out two planes... a Piper Cherokee and a Piper Lance. By the time they got the planes ready, we took off at 9:30 AM. We flew only 5 minutes, landing at the International airport which you could have driven to in 10 minutes, but we flew over water. Got out to do Customs and the pilot had to do a bunch of paper work and we had to pay Airport taxes of $18 and of course wait and wait. After all was finished, it was 10:15 and we had to wait in the plane on the ground until we were cleared by Puerto Williams, Chile, to be allowed to land. We finally took off at 10:50. After a 20 minute flight, with beautifully-covered snowy mountains all around us and Peter flying the plane and a perfect, smooth landing by him it was 11:05. Again we had to do Customs... in a very dead airport with nobody there, only a Citation landing and departing. That took another 30 minutes. When finally all was done, the customs guy took us and the pilot in to town... all of 2200 people, and told us he would see us Friday (planes are only allowed to bring people Monday, Wednesday and Friday), because he was going to a Reunion lunch with the city Mayor. When we protested and said, "We arranged a 20 min. flight here and a 45 minute taxi ride through the town and then a 20 minute flight back again," he called another pilot who was at the airport and asked him to wait for us and take us back.
By the way... the town has no hotel yet, one is being built and will open in December in time for their big season. Back at the airport after a 30 minute drive for $20, it is now 11:55 and of course nobody is there but the pilot waiting for us. The Customs guys are on their way from the dock, he said, and after 35 minutes waiting, in which they could have come back and forth 10 times, two people showed up. They had such a paper mart with the pilots paper, I inquired "if they had ever done this before" as you could clearly see he was frustrated, too, with their lack of knowledge. After another $16 in Airport taxes, we took off at 12:55 PM in the 6 seat Piper Lance and, of course, landed again at the International Airport to do Customs back into Argentina. But no one was there... as it turns out, the same guys work the boat docks too, and had to be called to come here, which took 55 minutes. With growling stomachs, we watched through the glass at everyone in the airport eating lunch!!! Again, 5 minute flight back to the first airport, landing at 2:05 PM!!!
Royally frustrated and $260.00 ($US) poorer, we raced to lunch in town.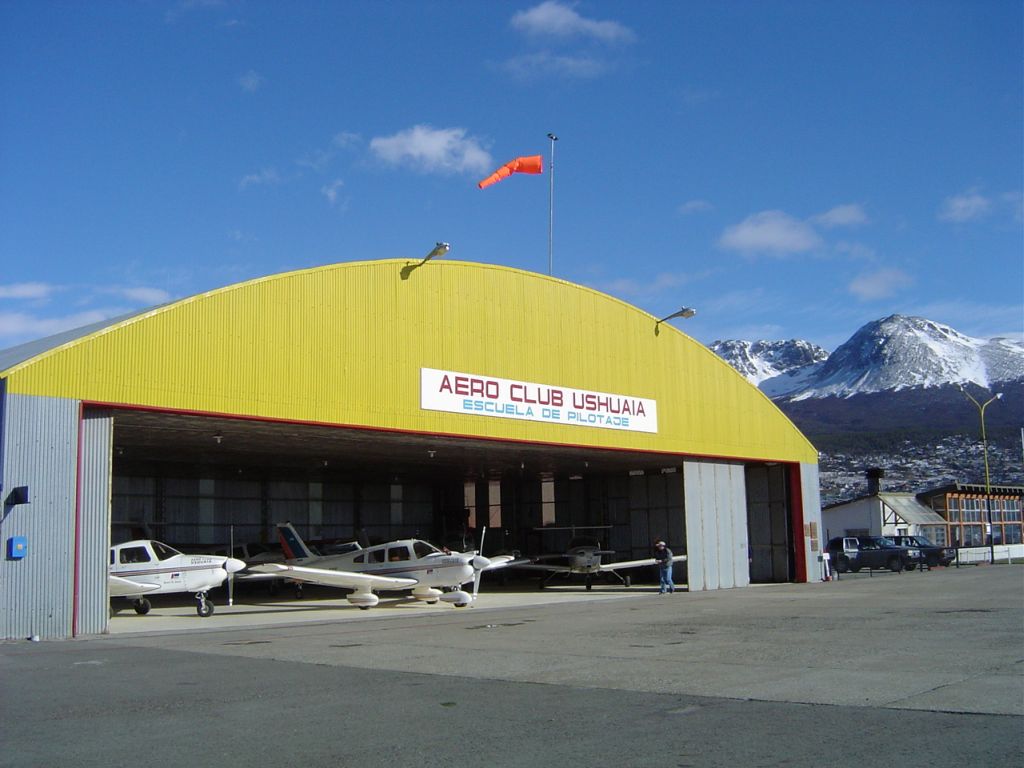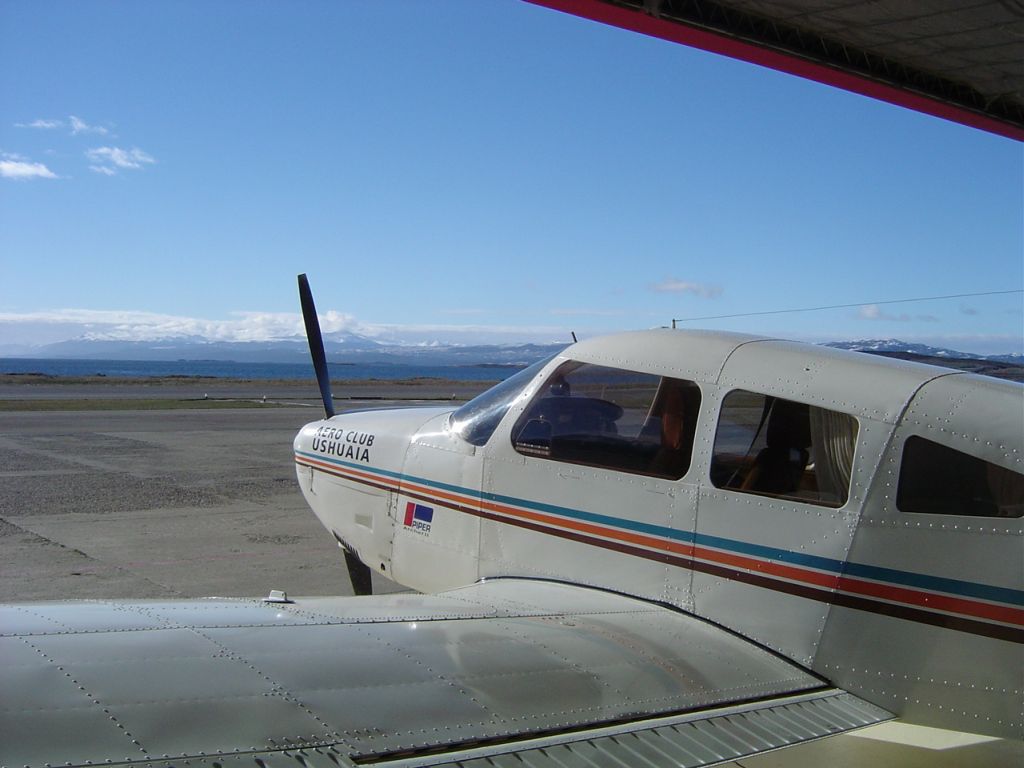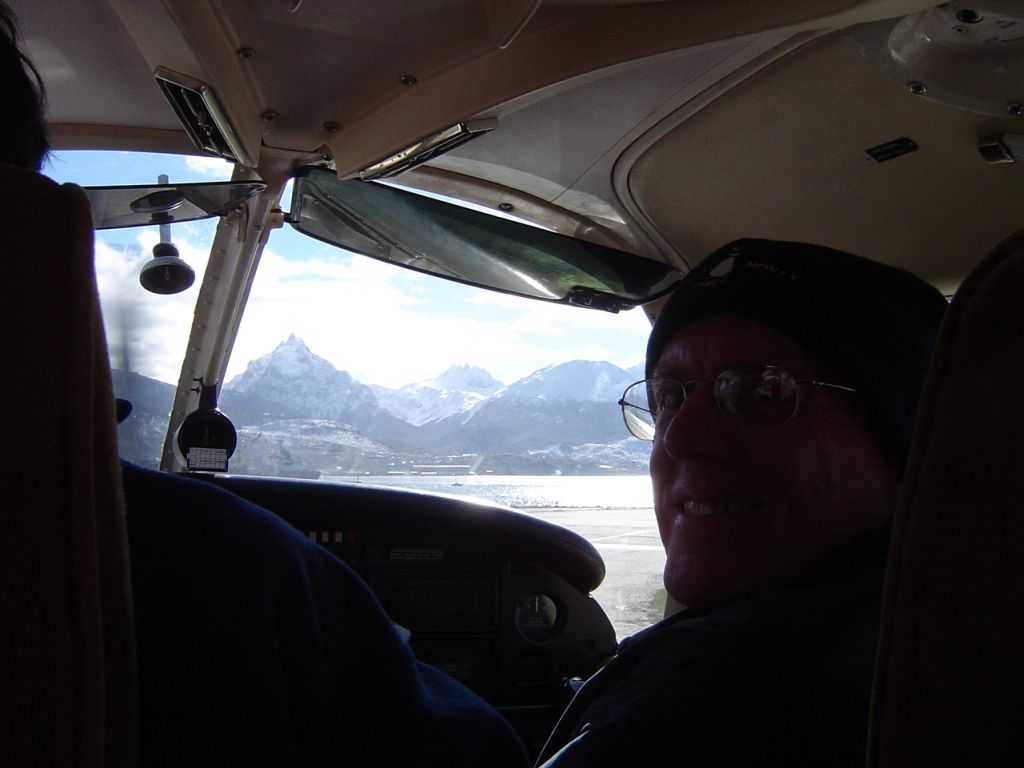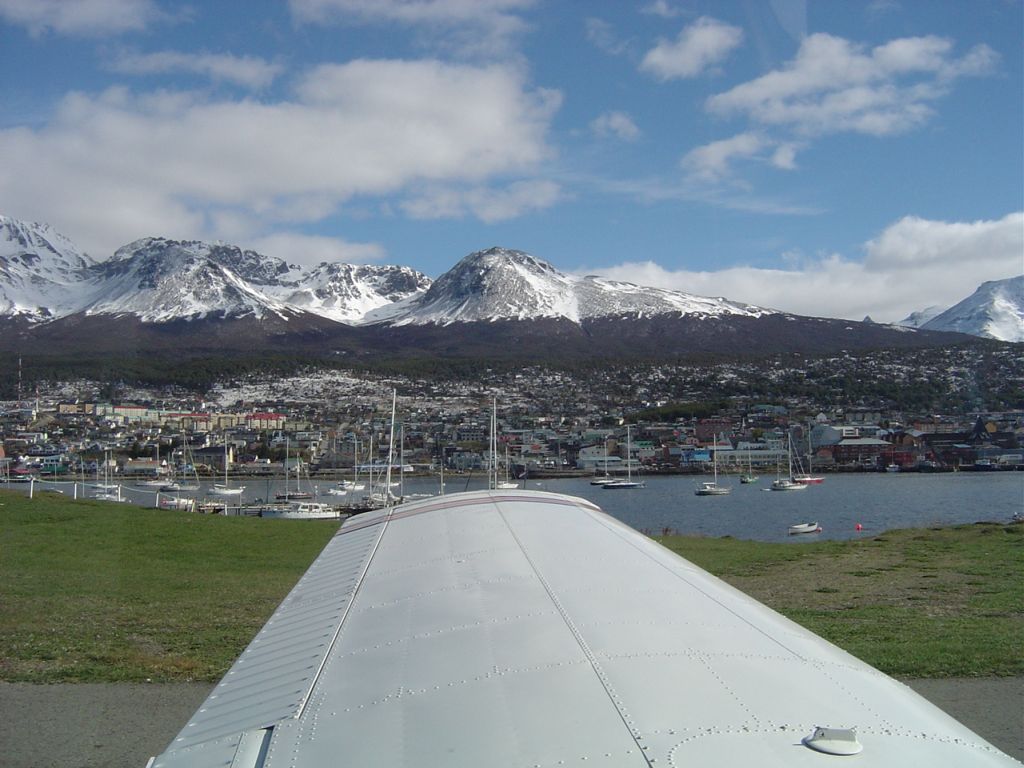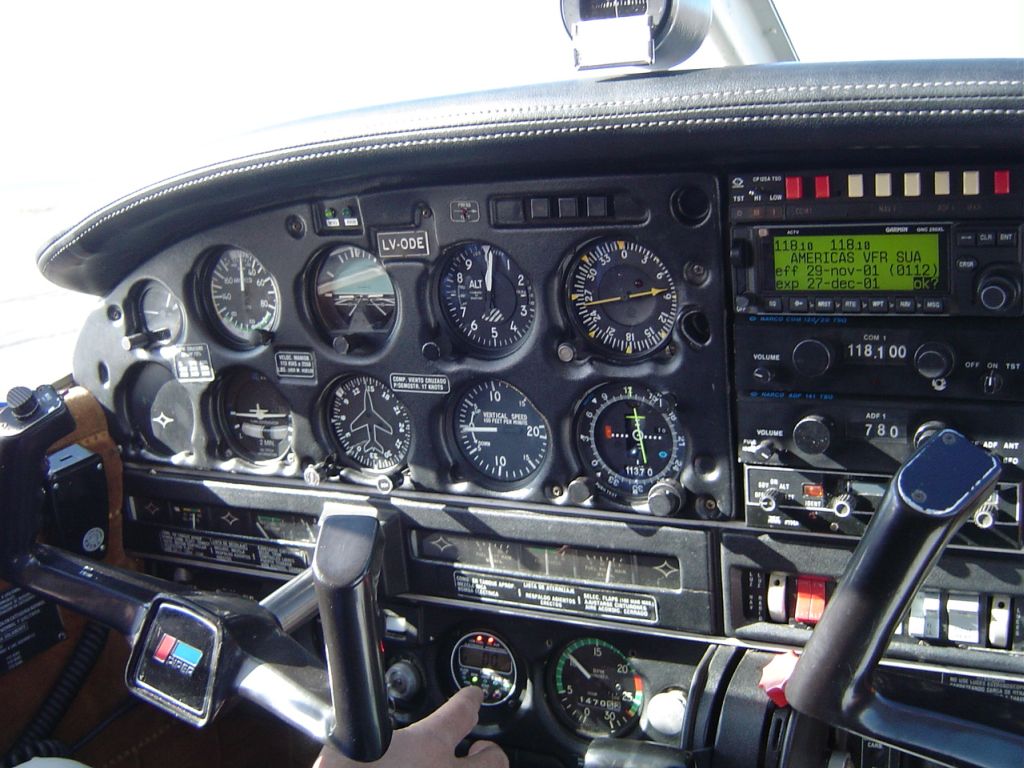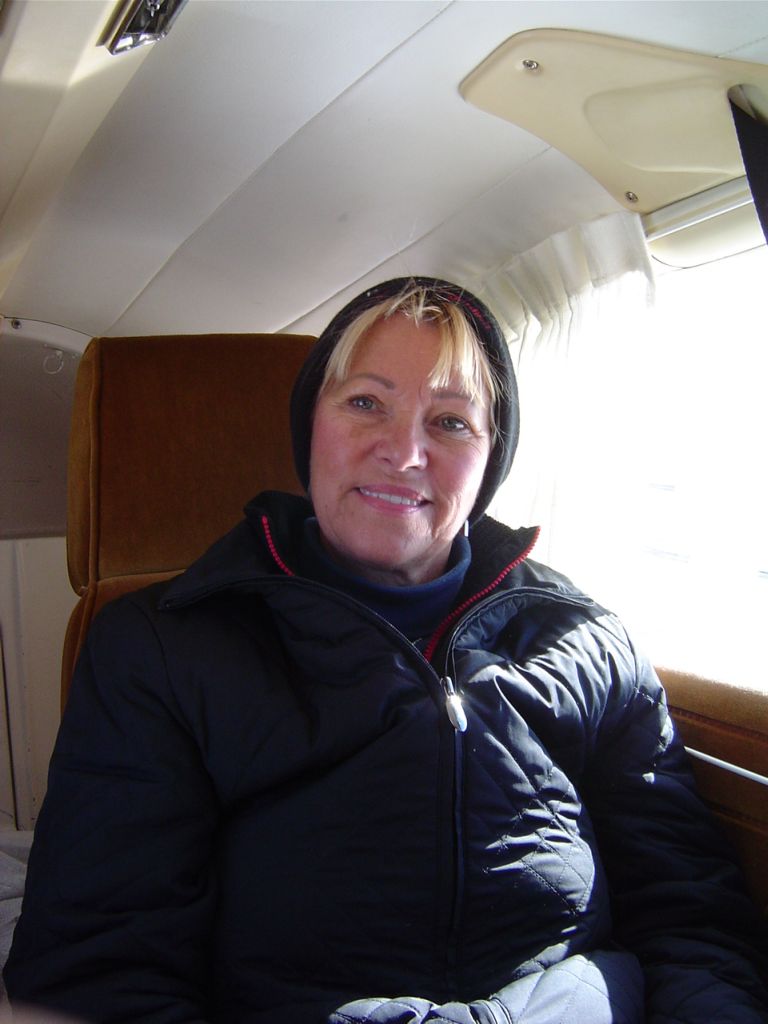 Departing the aeroclub airport to the north
Circling to the right...
...to approach the Ushuaia International Airport for Customs leaving Argentina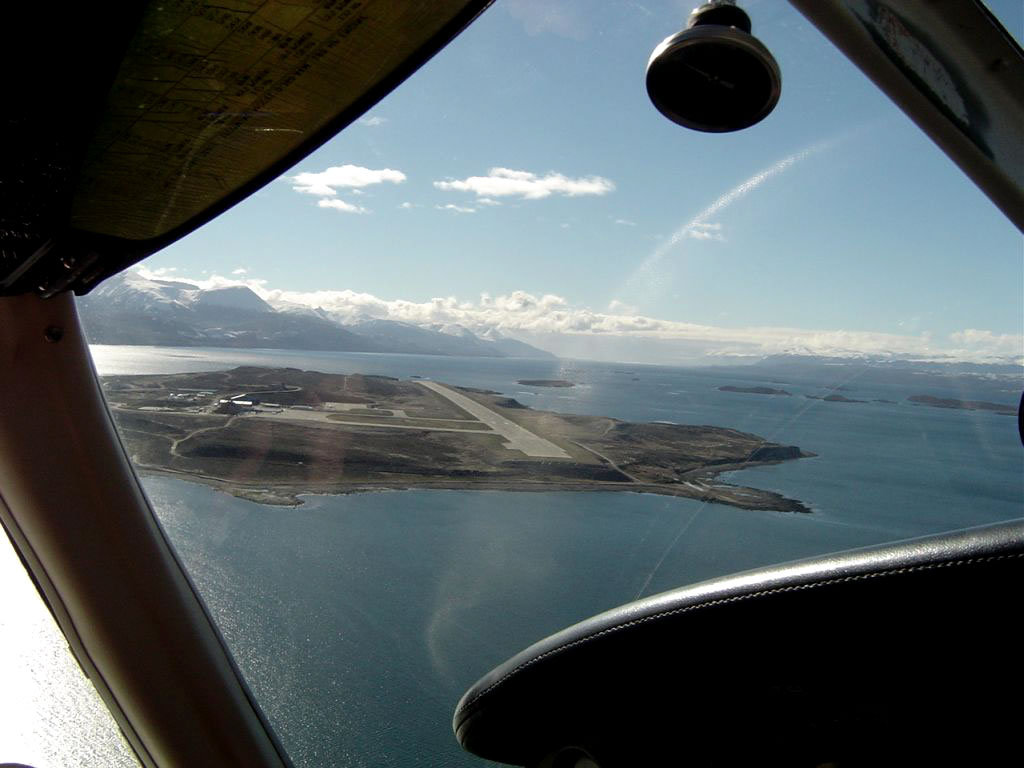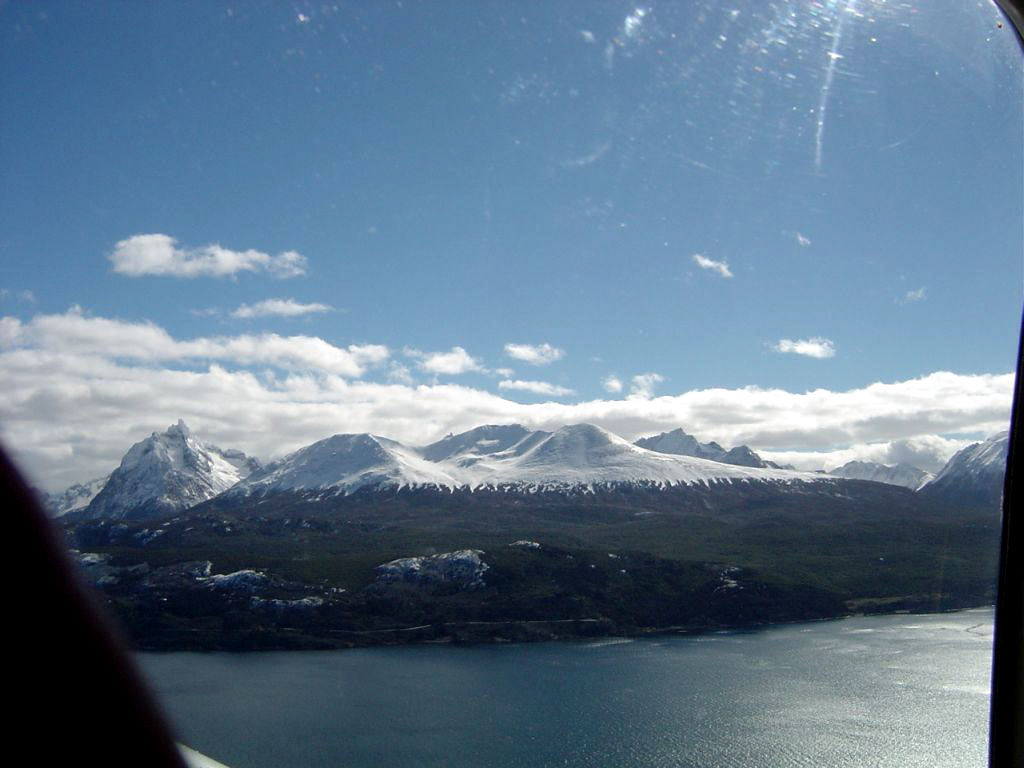 Finally, heading southeast over the Beagle Channel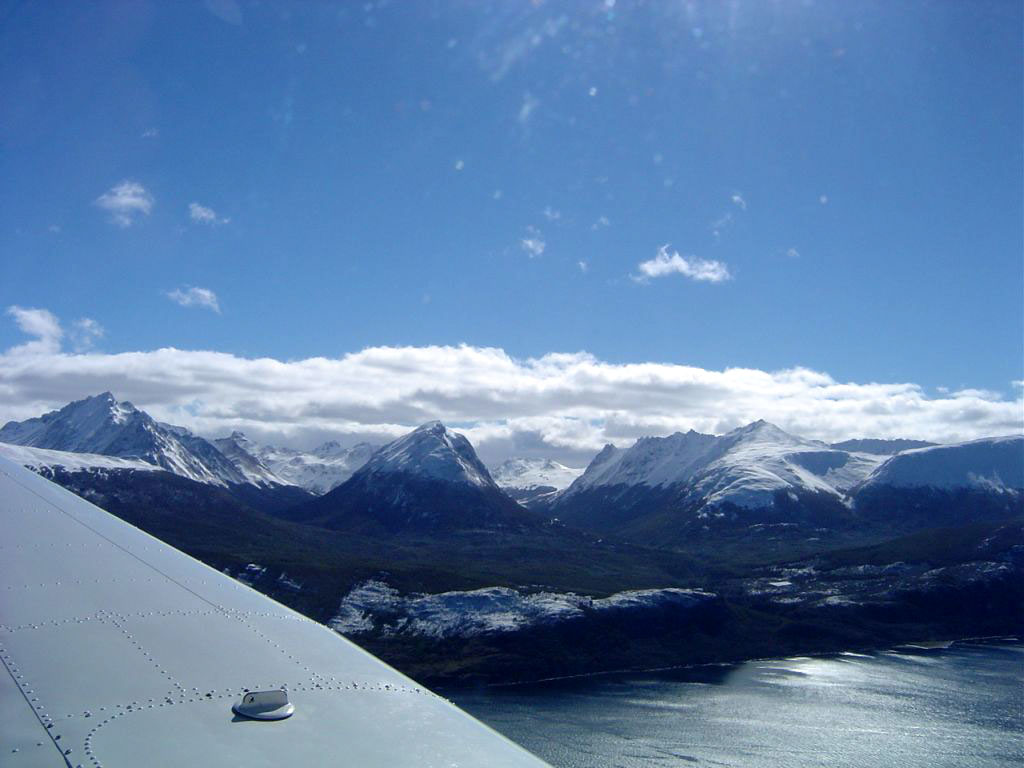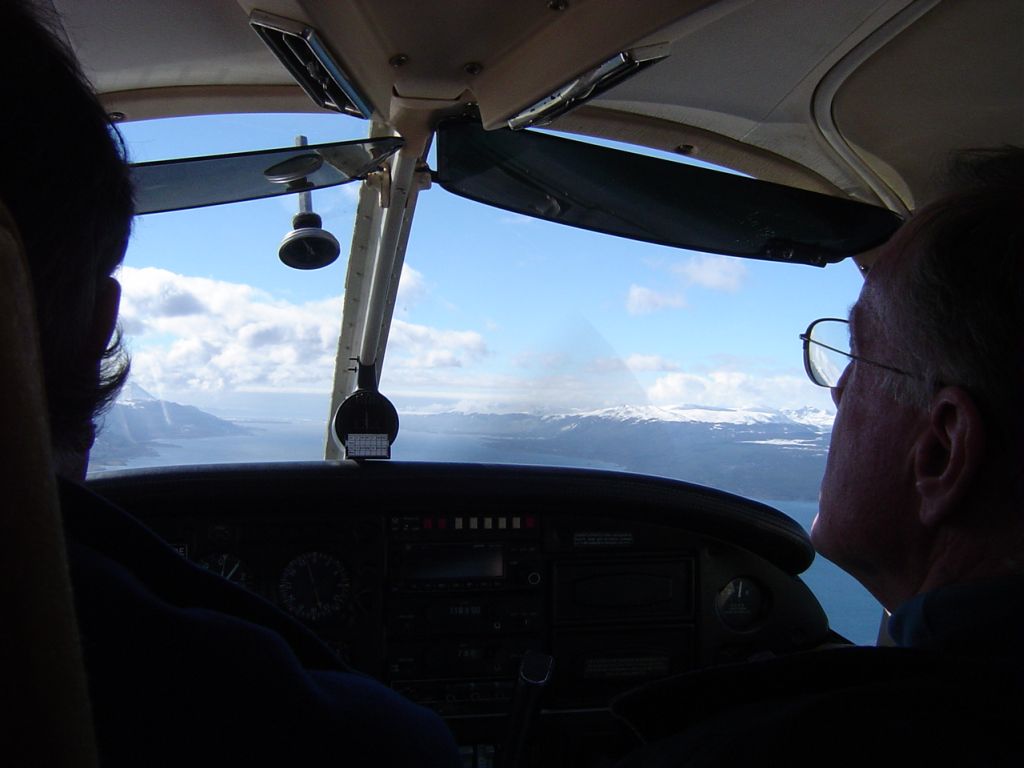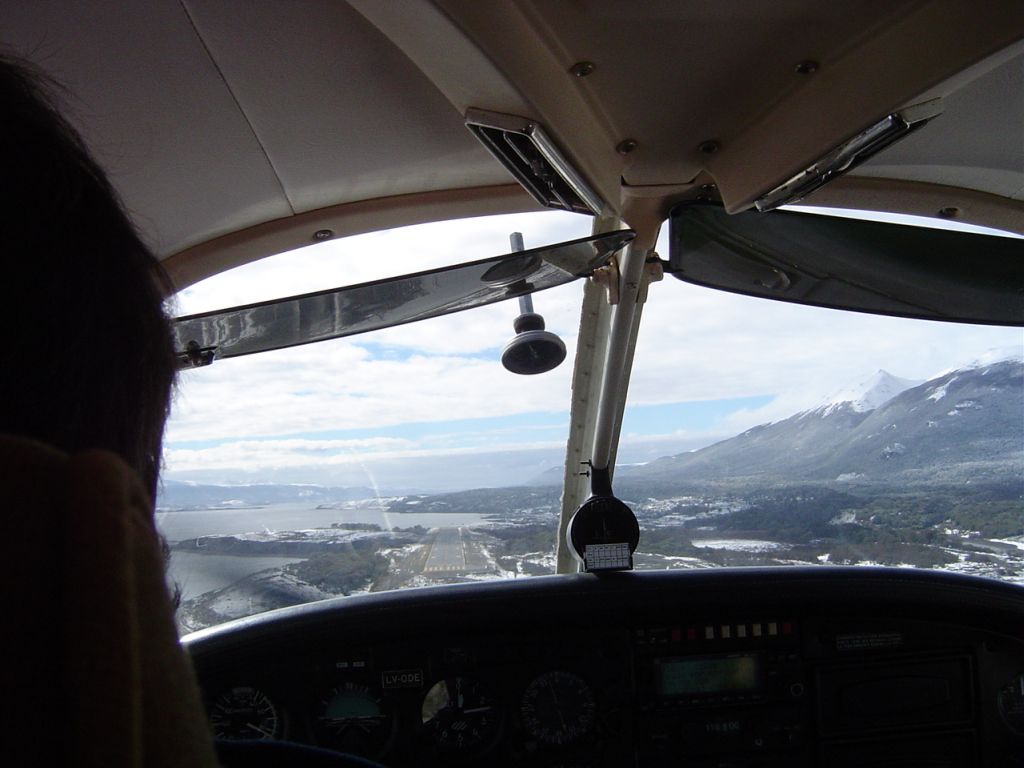 Puerto Williams, Chile, International Airport in sight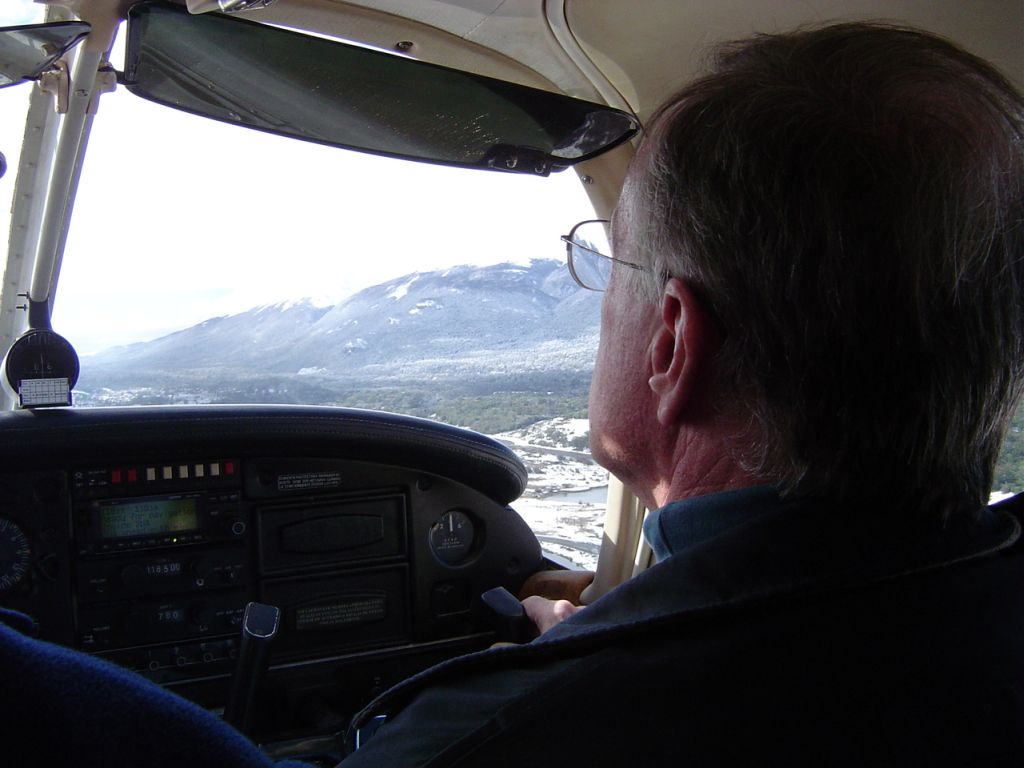 First Officer Putnam, landing from the right seat
On short final, Puerto Williams, Chile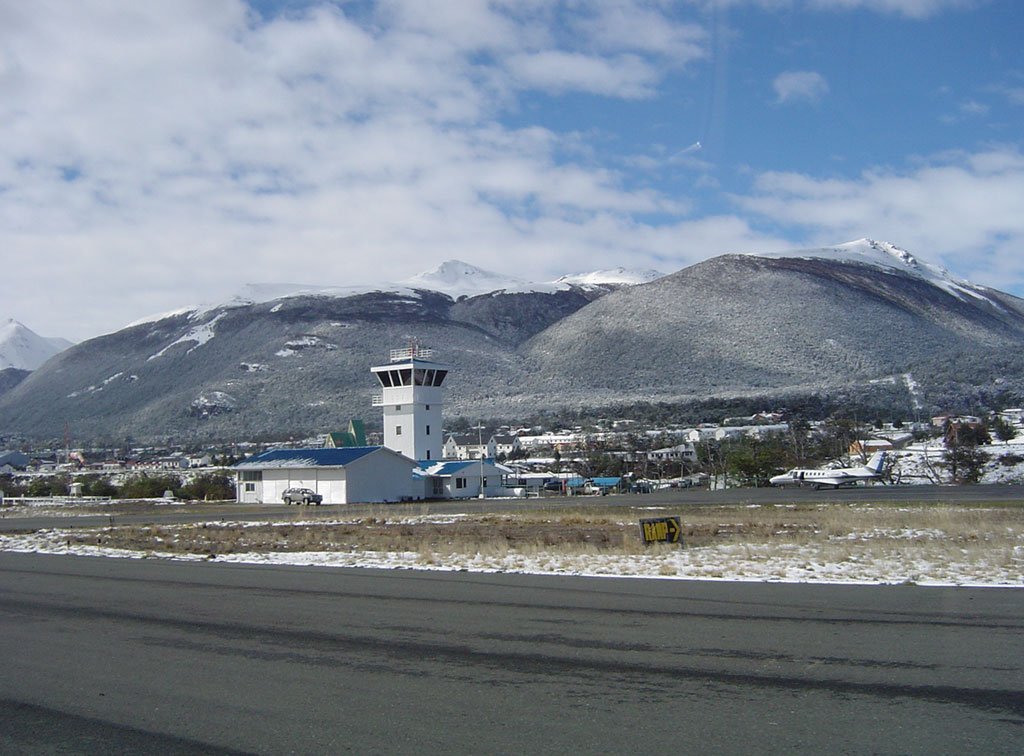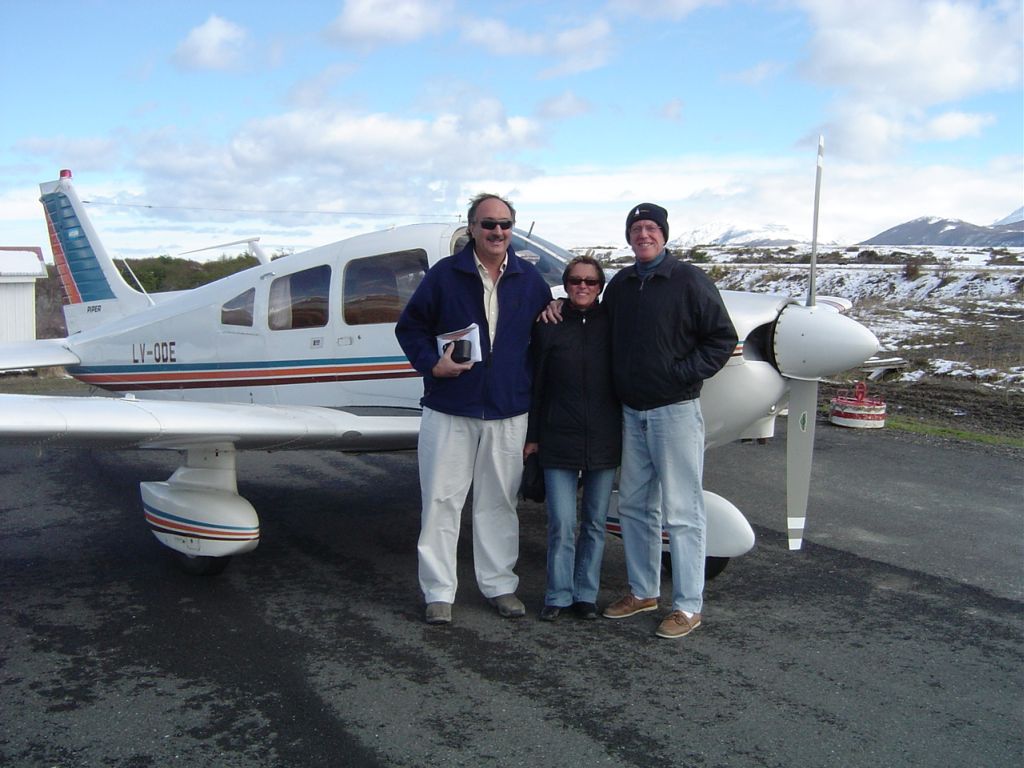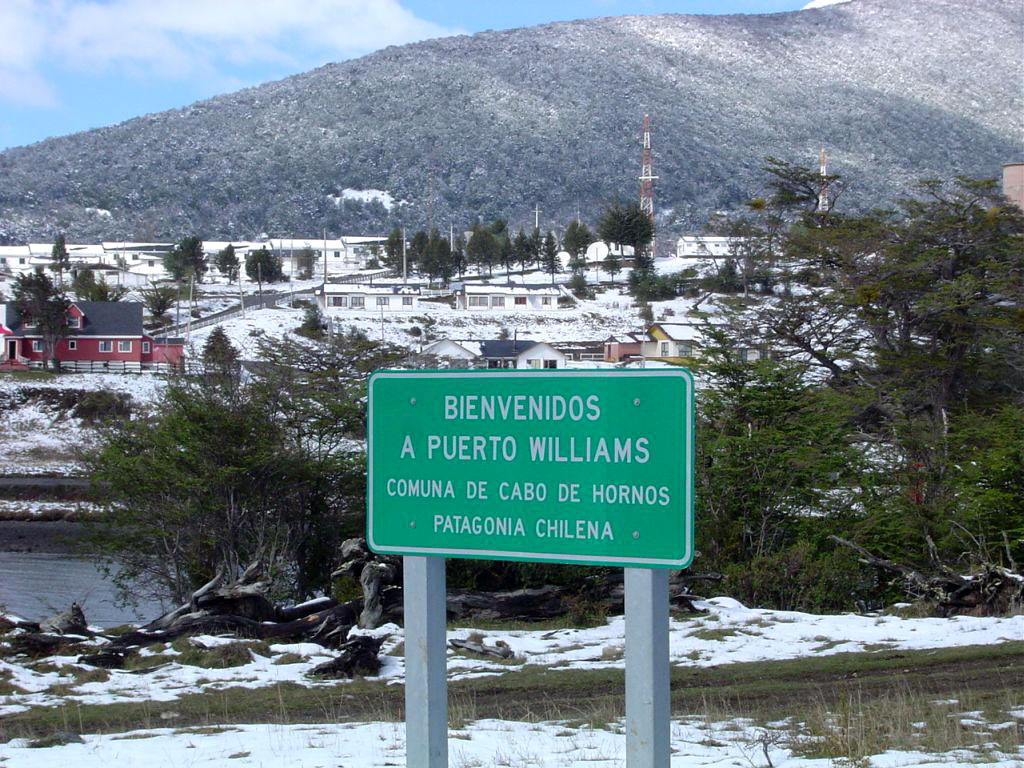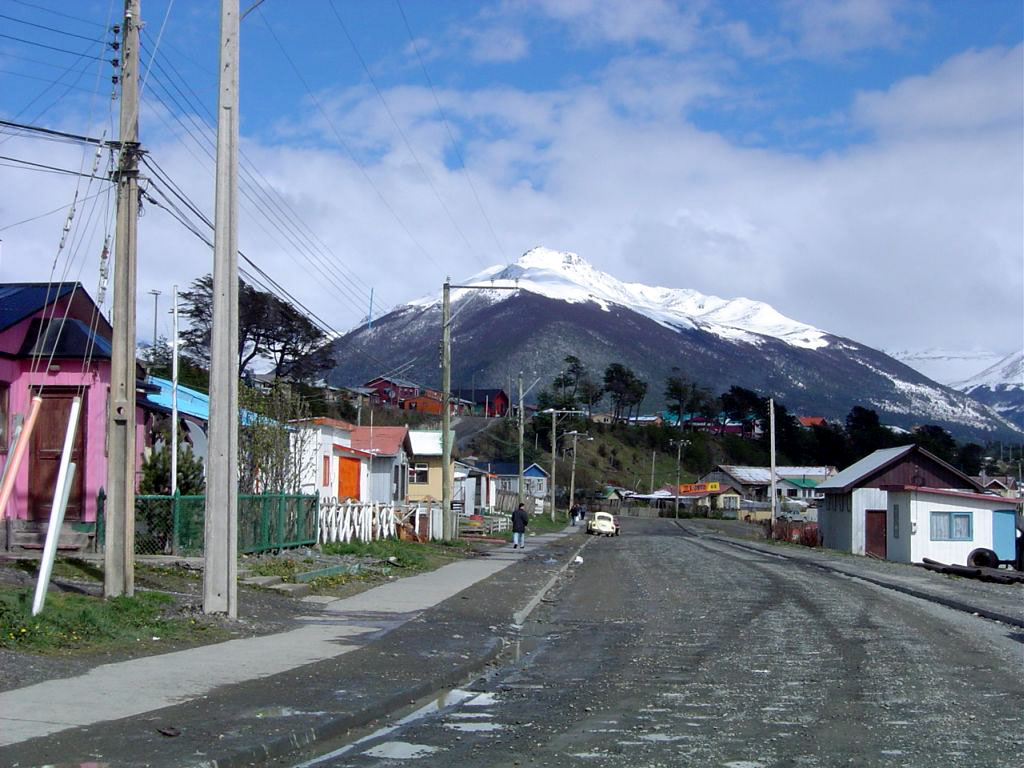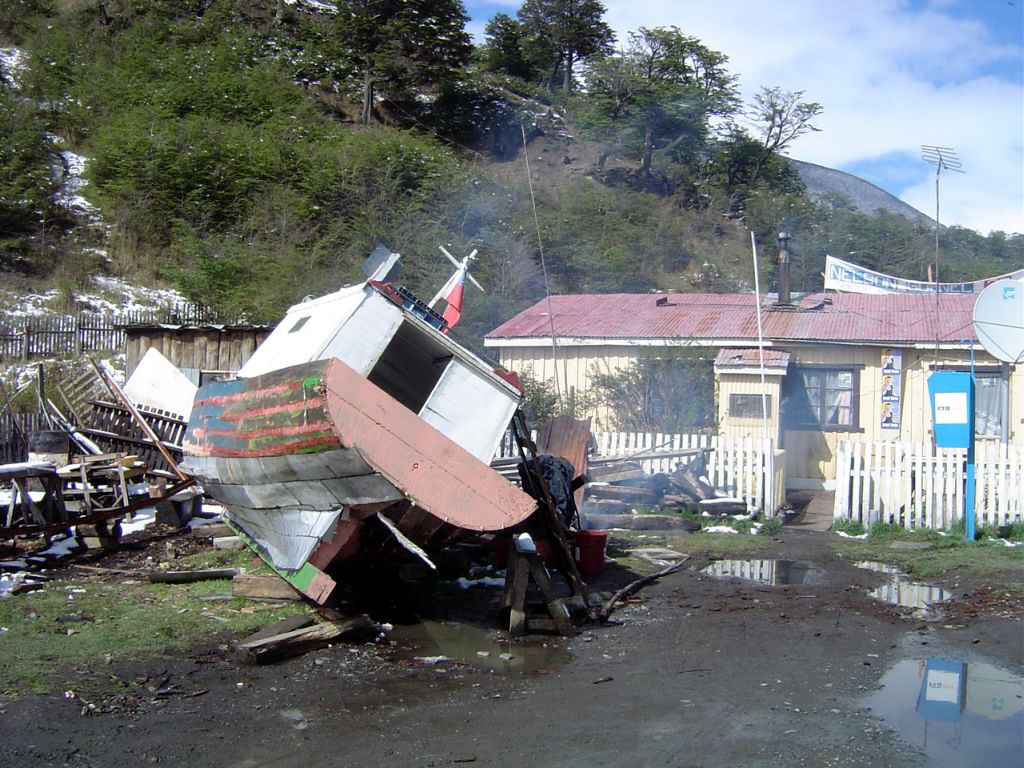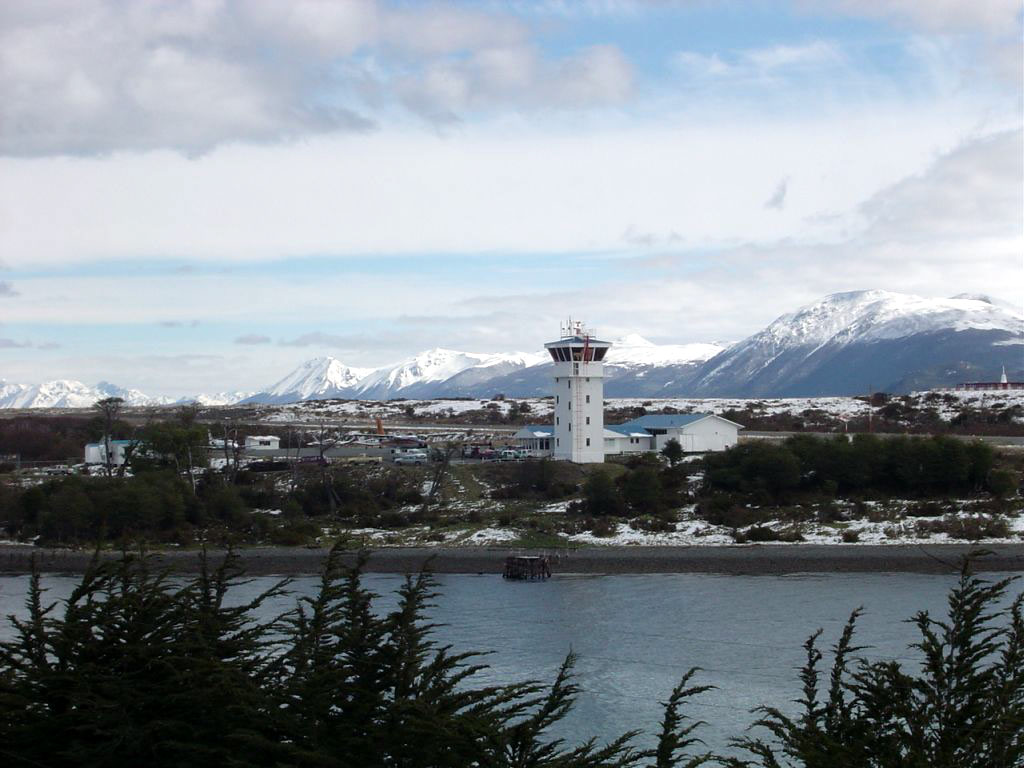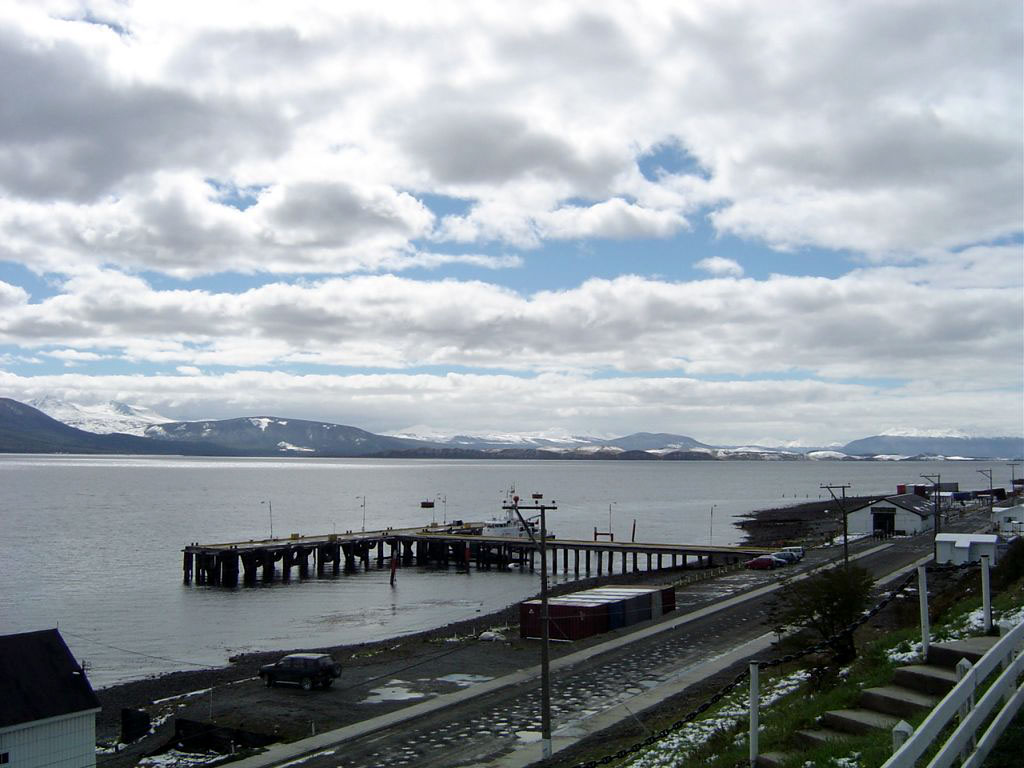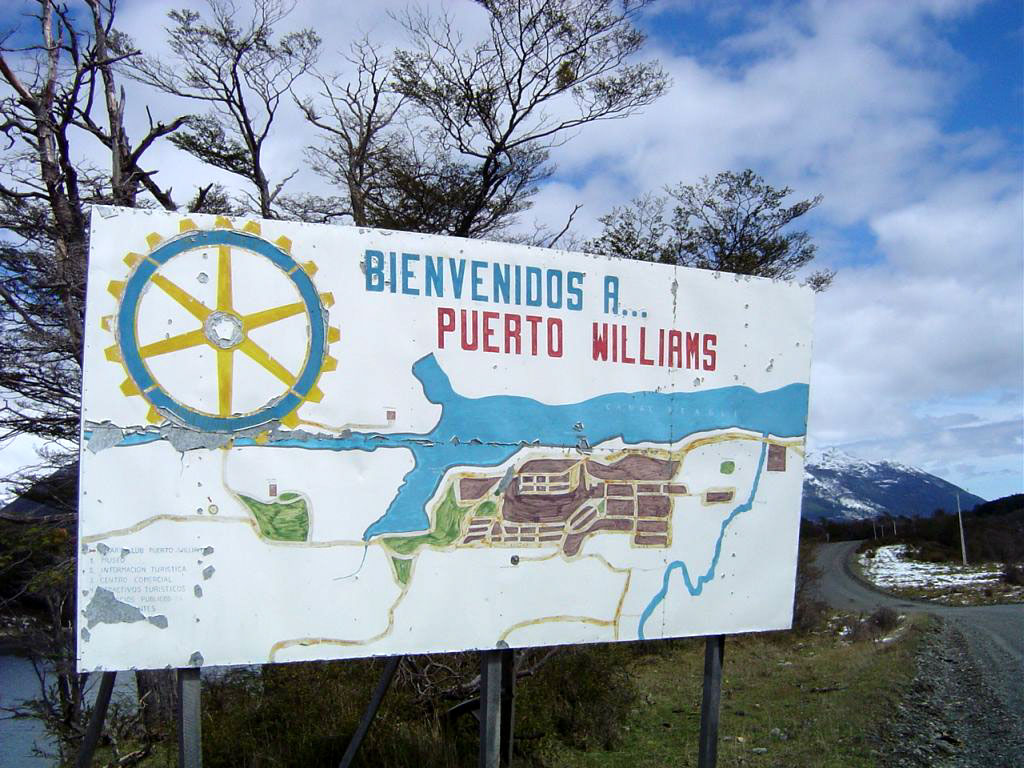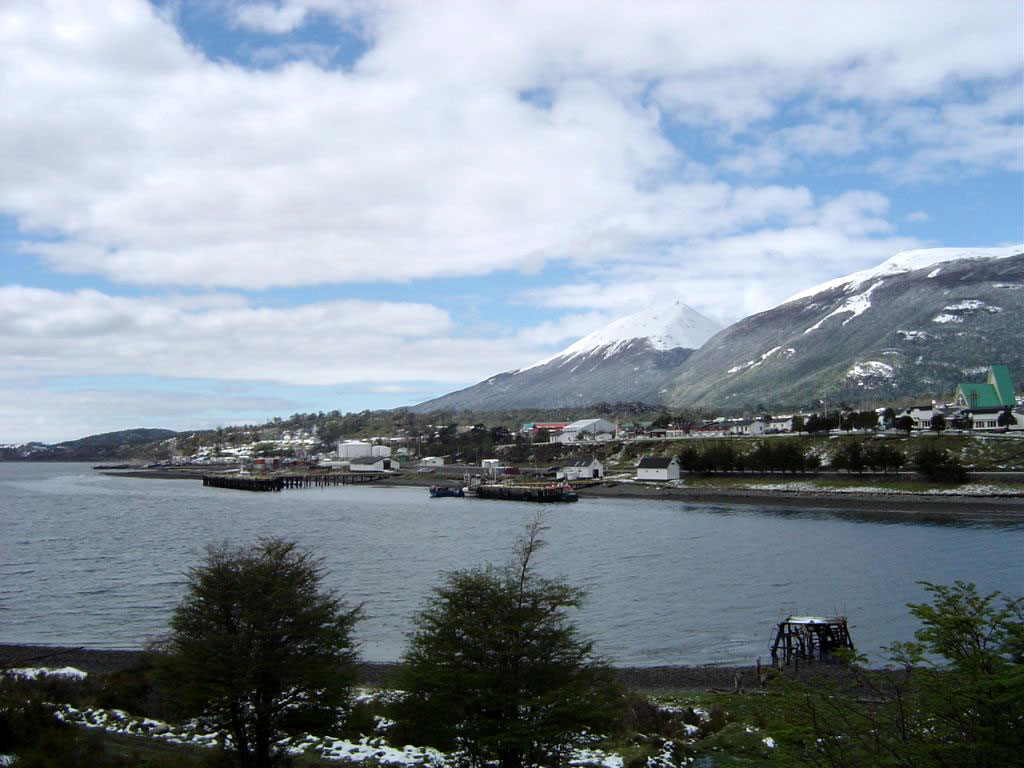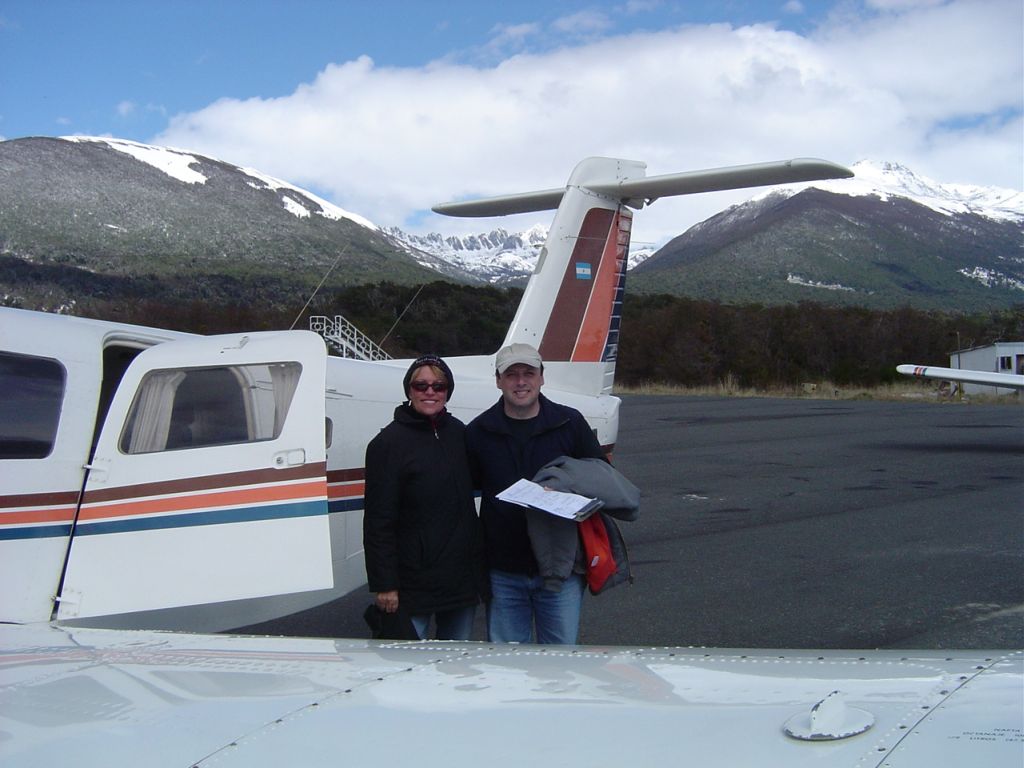 Our new pilot and new aircraft for the return to Argentina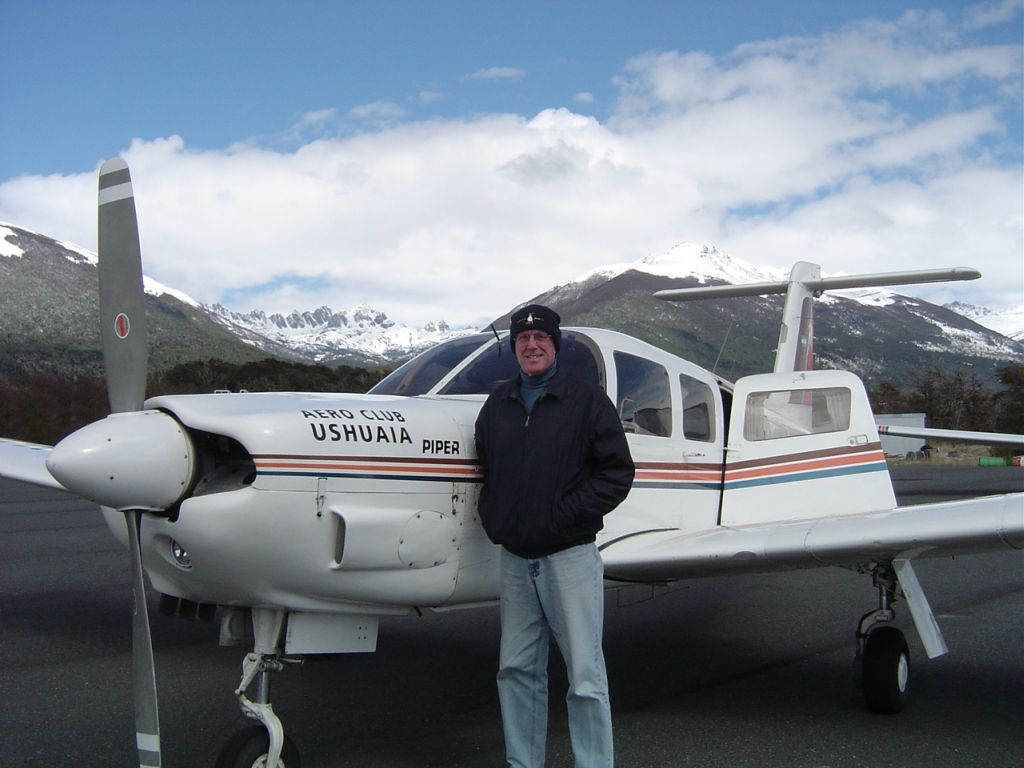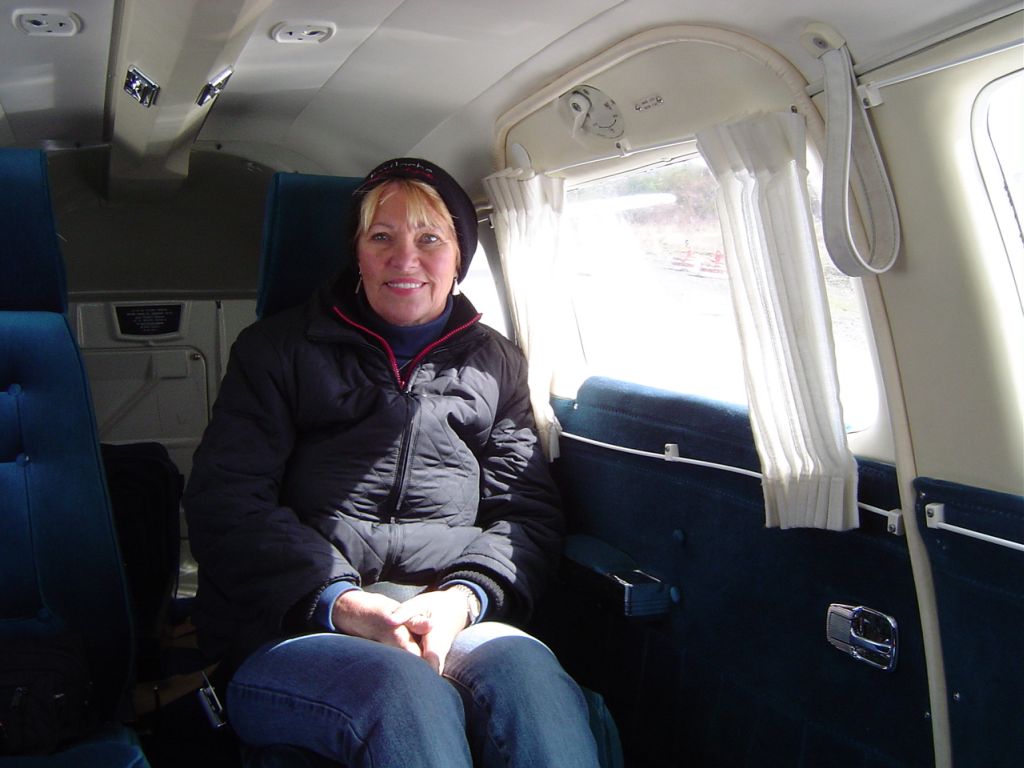 First Class legroom in the larger Piper Lance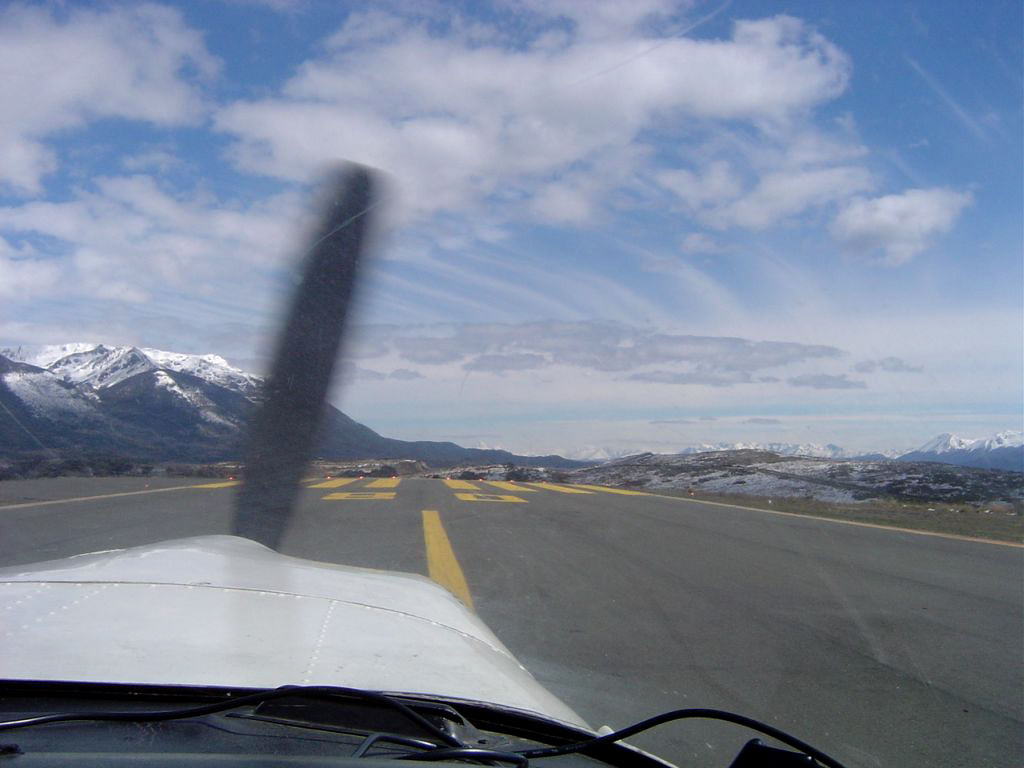 Taxiing to Runway 08, before departing Puerto Williams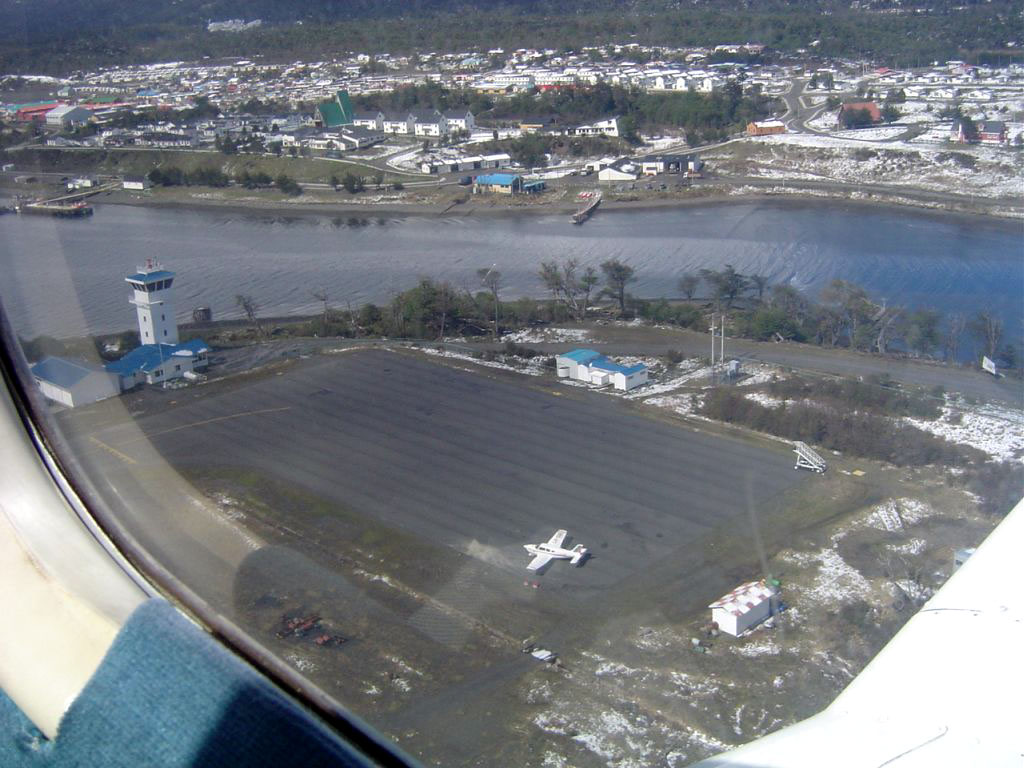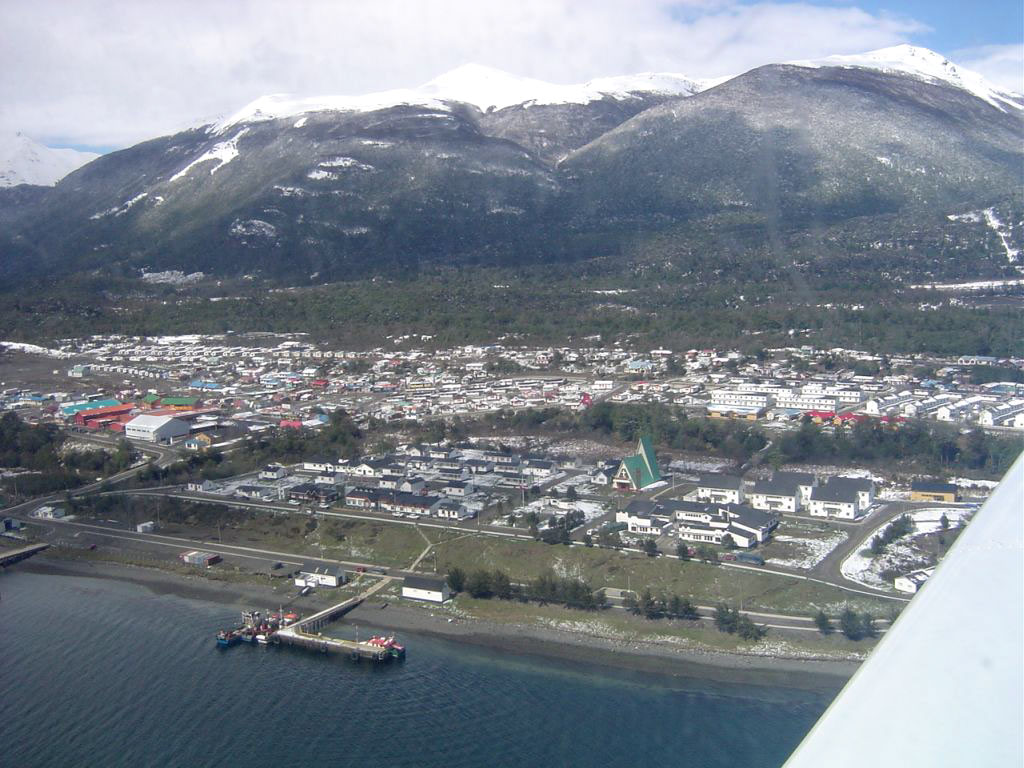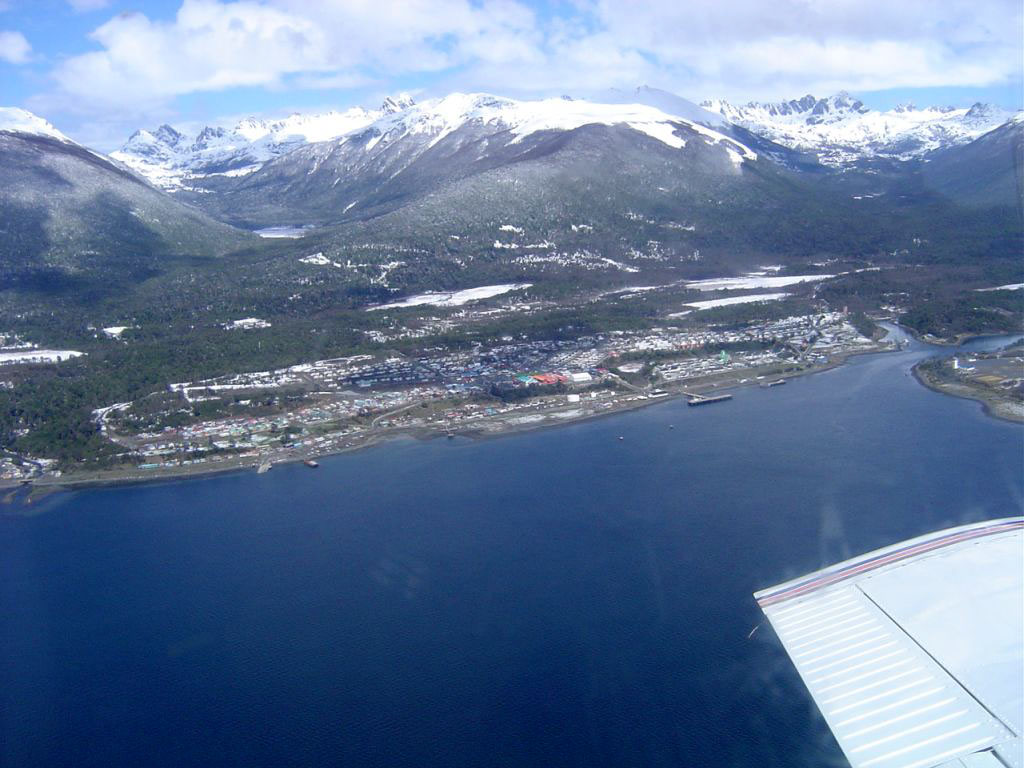 Heading northwest over the Beagle Channel to Ushuaia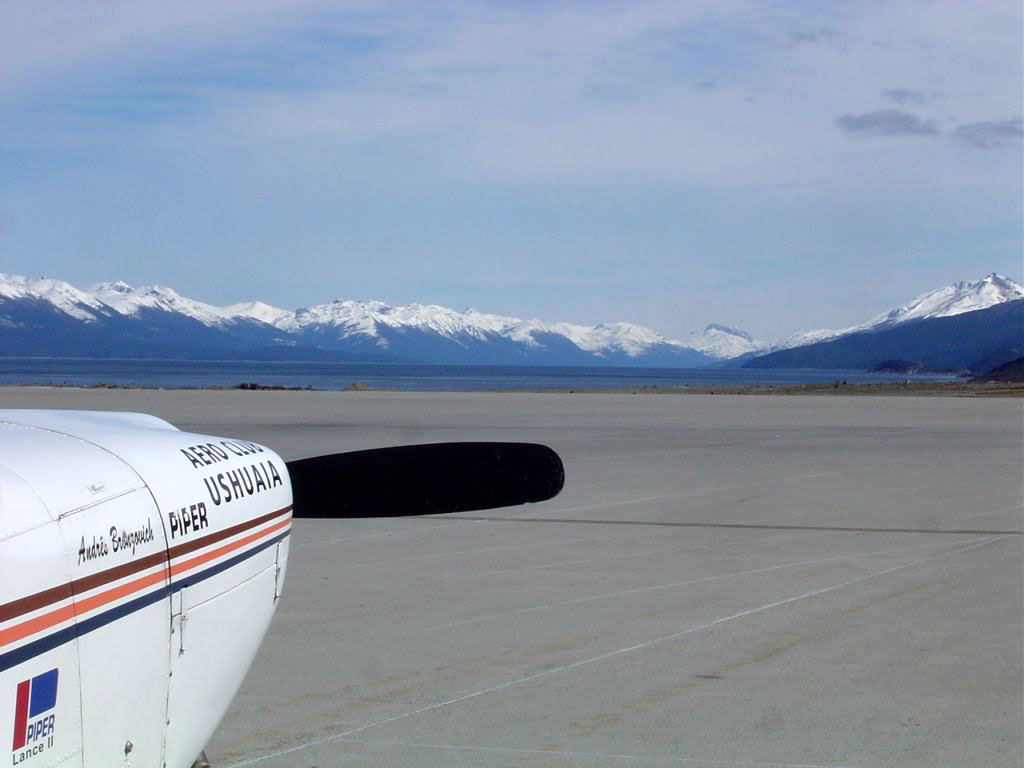 Waiting, waiting and more waiting at the Ushuaia International Airport for Customs to let us back into Argentina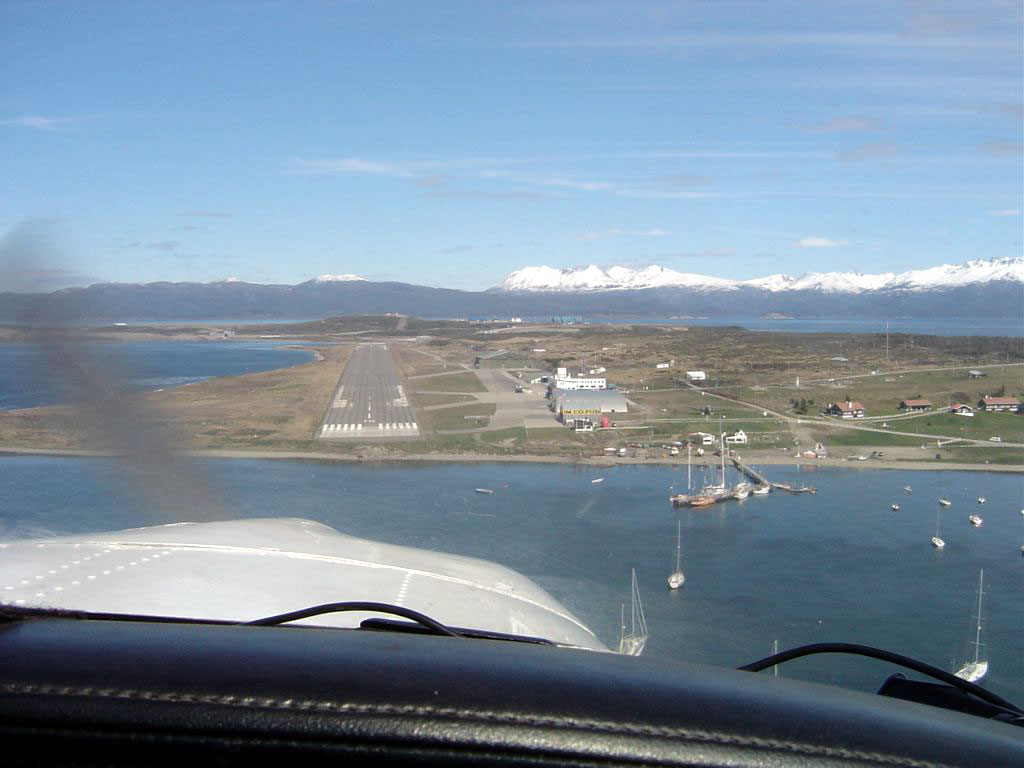 After departing the International Airport, landing at the Ushuaia Aeroclub Airport
An all-day journey to go 25 miles East and 5 more miles South
Wednesday, October 27th
Having carefully scanned the Ushuaia Radio Club web-site without discovering where it was, I walked to the tourist office in town and asked a young lady how to find it. She whipped out a city map and, without hesitation, put a small dot on it. Less than a mile away along the waterfront, I walked to it in 15 minutes. Naturally, no one was there, but their sign indicated that a frequency of 146.52 MHz was used for local communications. I walked back to the hotel and fired up the radio in the Jeep. Not really expecting much while the car was in the basement parking garage, I was quite surprised when LU8XP came right back with a strong signal. Cosme indicated he would like to get together, so he drove to the hotel, picked me up and took me to the club station for a tour, then to his home for a chance to see his own station.
Hamsters always treat each other well.